Following the New Zealand terrorist attack, local elements of hate have started to put out threats. Unsurprisingly, among those targeted appear to be immigration lawyers.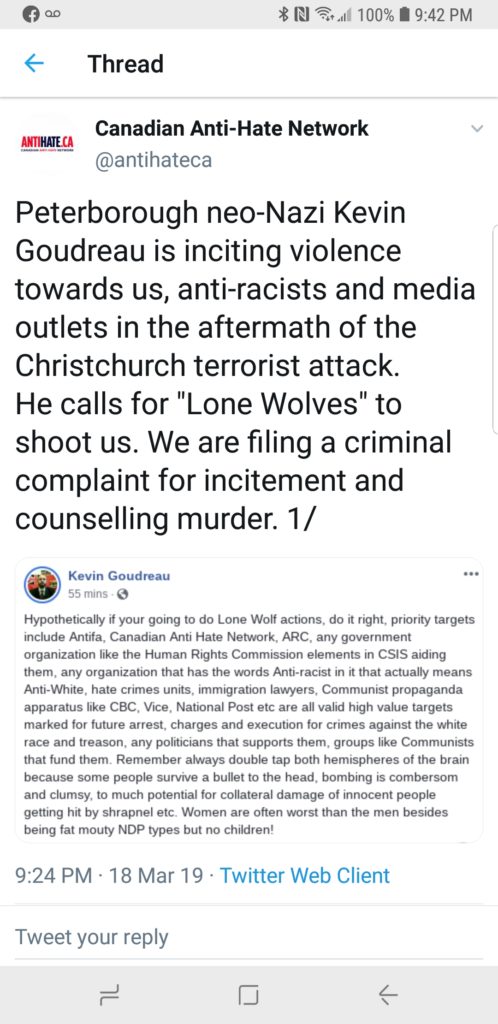 After it was posted, a senior colleague from Toronto and mentor Chantal Desloges shared her thoughts about the worrying nature of this incident. Barbara Jackman, OC and probably the greatest living advocate for refugee constitutional rights, thoughtfully suggested we share these messages with our assistants, many of whom are diverse persons of colour, to ensure their safety. Kyle Hyndman, a local lawyer from Vancouver whom I've admired for several years for his leadership and expertise, particularly in the field of LMIAs and work permits, added a further message of inspiration for us to be proud of our work.
By the way, at this point I'll note that I have rarely ever utilized the CBA Listserv to share my thoughts. Indeed, I can count on one hand the entire number of times I have done so in now almost five years of practice (if you include articling, when I first joined the Listerv) – 3. The first time was on a truly unique fact pattern involving an overturned removal order and the Government's financial obligations, the second was to ask for assistance on our litigation for the Parent and Grandparent Program. This was my third.
As those who read and follow Vancouver Immigration Blog and my Twitter account will know, I have recently taken a huge interest into examining power, privilege, and race. The truth of the matter is, lawyers of colour struggle in balancing these three and in turn it makes us more susceptible to anxiety, self-loathing, imposter syndrome, trauma, and stress. We become often times the invisible practitioners, behind the scenes working long hours, serving as interpreters and arbiters, sometimes even having to translate. After we serve our clients, who will often scrutinize us more because we are not white and therefore do not appear to look like your typical lawyer, we then have to handle returning to our communities to deal with the consequences (both good and bad). There's a lot of skin in the game and it is not an easy process.
I wrote this email response to that thread.
Thank you Chantal, Kyle, and Barbara (all three fantastic mentors) for raising this important issue to our attention and your words of courage and inspiration to us.
I also wanted to chime in on behalf of myself and other younger immigration and refugee lawyers of colour. For us, we often face additional barriers – without the platforms of power that can serve to insulate and speak for us, yet at the same time with these issues and challenges so deeply embedded in the communities we serve and live in. We become part of the threatened and as well part of the front line of defence, regardless of our own statuses in Canada, simply by the way we look and who we were born to.
I am grateful for a strong CBA Executive and Coordinator team, one that has allowed me to use Twitter as a platform to share stories of inspiration, put out debate, and highlight some of the activities of our immigrant communities and young lawyers who come from them. I continue to ask you to send me news stories and developments of inspiration so we can be part of this conversation in a positive way. We also have a very diverse executive we should all be proud of and is so unique to the CBA that we should continue to champion.
As a final note, I urge you all to reach out to younger, BIPOC (Black, Indigenous, People Of Colour), LGBTQ2+, and Differently Abled lawyers in your firms and also make sure they are doing alright. Vicarious trauma and stress affects us all in different ways and for many of us with lived experience or direct family that have come from migration and struggle, these client matters and associated threats from the public take on a different meaning.
We should also be looking at ways we can help highlight diverse voices in everything we do as an organization – to make sure young lawyers of different backgrounds know they are supported and that they have a place at the decision-making table, even if this requires some of us to cede our own power and privilege in order to make this happen.
In solidarity and with gratitude,
Will