The beautiful logo you see on this page was hand-drawn and vectored by local Coast Salish artist Diamond Point.
HAND DRAWN DRAFT: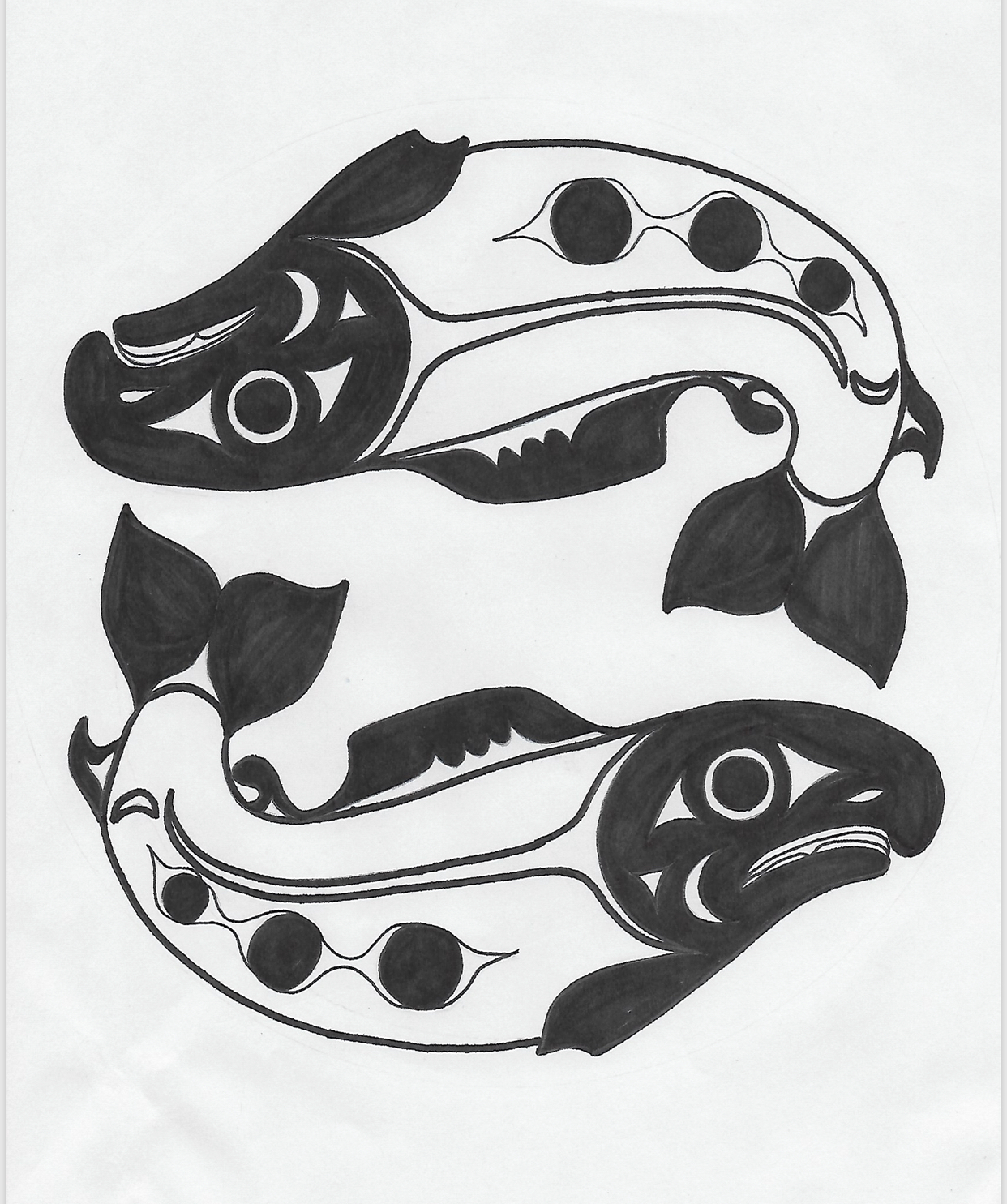 I reached out to Ms. Point after seeing her work for the University of British Columbia and realized we also shared a social network going back to when we were undergraduate students at UBC.
FINAL VERSION: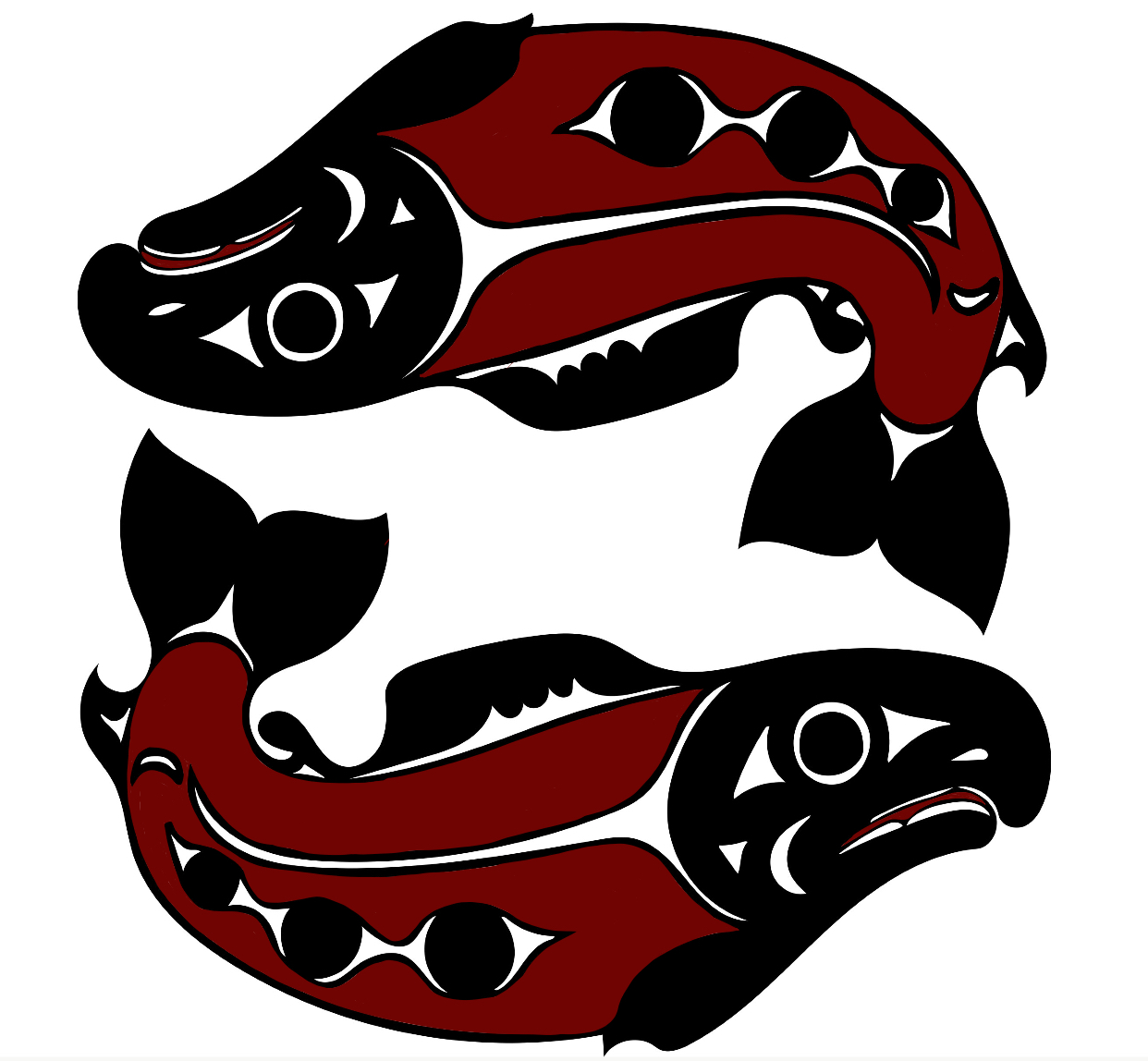 Below is the artist statement from Ms. Point.
Artist Statement
1. The Salmon: 
In Coast Salish culture, the salmon symbolizes instinct, determination and persistence. The Salmon also represents the symbol of abundance and wealth, as well as prosperity because it is the primary food source for Coast Salish people. Salmon is the provider of life. Also having a salmon depicted in pairs represents good luck. Also the shape of the circle in coast Salish art represents life itself. I have done two salmon in a circle shape to represent this idea of good luck and as well to represent a prosperous life. All five types of salmon run through our waters, which I thought was neat to incorporate with diversity. They also travel great distances together.
*Fun Fact: Salmon also brings people together, especially within potluck ceremonies and feasts. (In Musqueam, We always hold a big salmon feast on our National Indigenous people's day celebration, which is always open to anyone of indigenous and non-indigenous backgrounds). 
Blog Writer's Statement
When I saw Ms. Point's picture and design I immediately connected. The double fish shares similar importance to my Chinese culture. The other word for fish is abundance and prosperity. Fish prominently features in important Chinese banquets and is a symbol of a future where can prosper together.
When I think about my own upbringing, on UBC, on traditional Musqueam territory. My elementary school days were learning from my many Nisga'a colleagues, seemingly unaware of the challenges but enthralled with the beauty of their culture.
I believe this a story for all newcomers to learn. This is our Canadian history. It is full of shame, sadness, but ultimately requires reconciliation.
As a student of Canadian migration history and someone who has the privilege of practicing law on traditional, unceded First Nations Territory, I think it is important that we do not forget that we are all guests and immigrants by our very nature of being here.
Going back, Canada's First Nations peoples are the first descendants to the country and the land and it is through their generations of hard work and sacrifice that much of modern day Canada was paved.
Canada was also unfortunately complicit in the cultural genocide of First Nations peoples and today many communities are suffering with its severe repercussions.
The same attitude that was taken with the First Nations peoples was also applied to new immigrants from the Orient. Individuals and families were head taxed, ships were returned, peoples were banished – and lives were severely devastated by a majority cultural unwilling to open its doors to accept those who were different.
Vancouver Immigration Blog is an attempt to change this narrative. We will be highlighting the First Nations community in several positive ways and we are committed to working together to inspire the next generation of youth to fight against oppression and racism.
May we never forget.