Full text (minus a few ad libs from the day of):
I would like to Acknowledge that we are on the unceded, traditional territories of the Coast Salish Peoples  – the Squamish, Musqueam, Tsleil-waututh.
It is the resilience of our First Peoples, in the face of adversity and historical and on-going discrimination that inspires us to continue to strive for reconciliation.
I ask that we draw on their collective wisdom, the wisdoms of the ancestors of this land, as we gather in our own circle here today.
Friends, name is Will Tao. Pronouns: he/him/his. I am the Chair of the Cultural Communities Advisory Committee. I am so grateful to be able to provide brief statements to open up today's packed agenda of events.
For those that don't know about our Committee we are a 15-member volunteer advisory committee. Our mandate is to enhance access and inclusion for Vancouver's diverse cultural communities.
Over this present mandate, we have played important roles on some of the City's major projects. We've been part of the Vancouver Immigration Partnership, assisted in drafting the Apology for the Historical Discrimination Against Chinese Project, been part of the Mayor's Working Group on Immigration, The Assets Naming Committee (who I add just did a fantastic job naming several City assets)!, among others.
We are particularly proud of our Committee-driven initiatives, from the Spaces survey studying challenges in securing ethno-cultural spaces, to hosting the City's International Day for the Elimination for Racial Discrimination, to our Voices of Vancouver statement, and to the exciting Islamic History Month, the city's first, coming up on October 27th.
If you have any questions about our Committee's work, I ask that you approach our Committee members. We have seven members here today – almost quorum (joke for all of you who do advisory work).
Today, marks a continuation of our efforts to ensure that diversity is more than a check mark.
Today marks our first meeting of the 3.5 half years I have been on this committee – held outside City Hall.
This brings me to the heart of today's conversation – the Punjabi Market Community. One member of our Committee told me a few days back that this would be nostalgia for her. As a kid, Punjabi Market (like for many of the community members in this room today) was their backyard. A place to shop, to eat, to  spend those cherished family memories that today we look back fondly on.
This is a special community that stands for resiliency over time. That stands for everything great about our City and our people. It is our past, present, and future, all rolled into to one diasporic dosa.
When community members Ajay Puri and Gulzar Nanda, whom I will introduce momentarily, asked to attend a CCAC meeting a few months back and told us they needed our help. We immediately heeded their call.  Their passion for this neighbourhood – tied into their honouring of the legacy of their forefathers is an inspiration to all of us. I see our role today not only to share our own experiences and advice but to be active listeners to what this community wants us to hear as it heads to its half-century birthday in a mere two years.
I would like to close my brief remarks on just one more point.
For those that may not know, I have been adopted into a Punjabi-Sikh family myself. Had a traditional Punjabi wedding (even though my partner is Chinese). Spent hours in prayer at the Ross Street Gurdwara reflecting on God's good graces.
I love the expression of Chardi Khala and how it ties in to work today.
Chardi Kala teaches us that even through difficult and trying times, that some of us may be facing be-it through life, work, paying rent, affording to run a business on 49th and Main, that we are all interconnected with one another. That our work here is for more and greater than our own selves and our own ambitions.
This community's fate and future is our fate and future. By being here you have stepped into the shoes of this community for the evening, and have left your shoes at the door. Having stepped in it, it is not simply good enough to come back once every four years. You are bonded as well all are.
Today, let's choose to face this challenge of community building with eternal optimism and positivity – Chardi Kala. Thank you for all being here.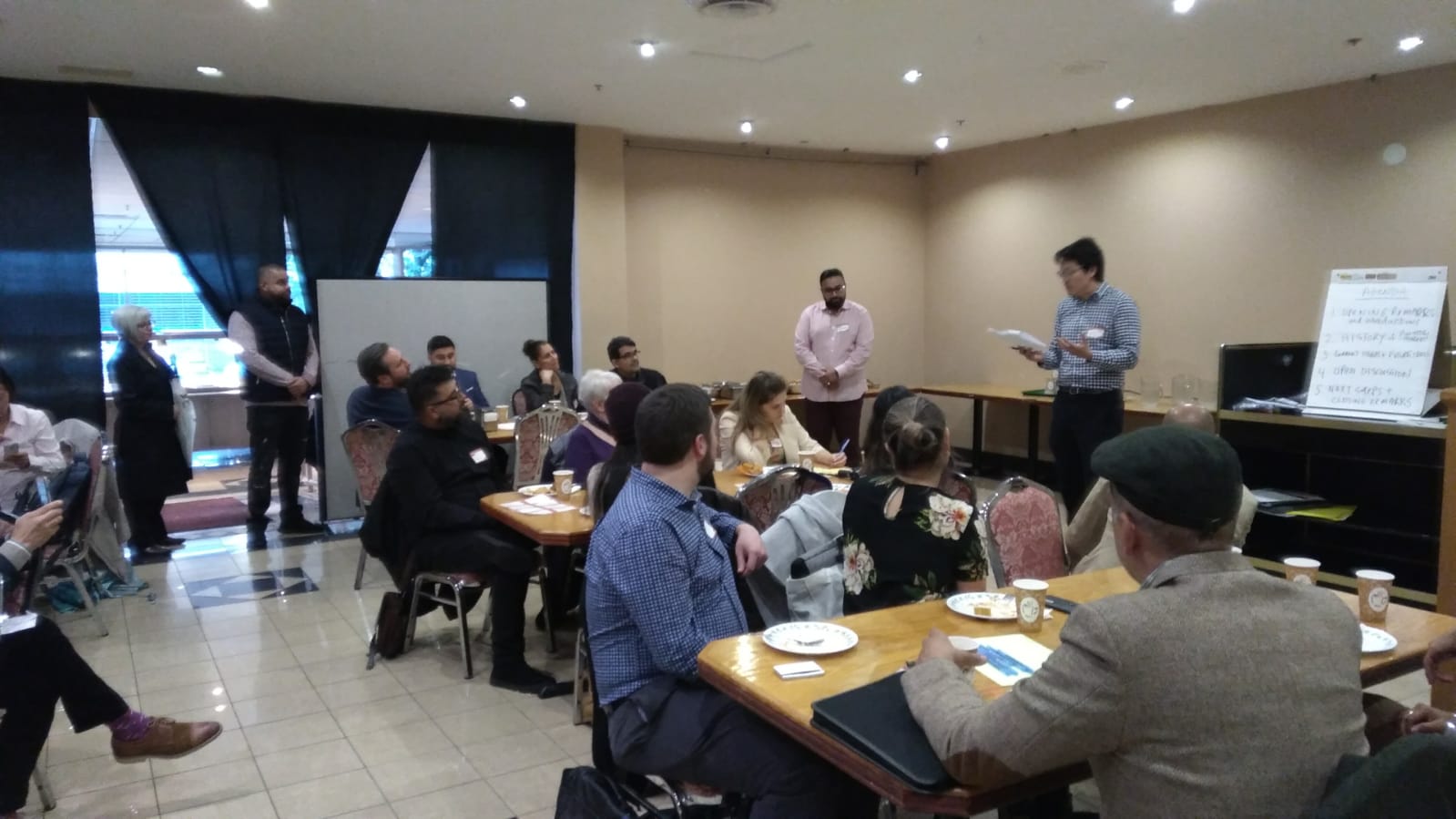 Some Additional Thoughts:
Growing up on the west side, Main Street was already considered too far East. I had very few South Asian classmates in high school. In University I was blessed to meet Davinder Sethi and his family who took me. Later. I studied South Asian migration and took Dr. Oberoi's South Asian Beyond South Asia Class.  It was also during this time I was first exposed to the Punjabi Market. Davinder and I filmed an intro video to our Asian Representation in Politics course featuring Kohli's and what was then Guru Bazaar.
For the past ten years, I will have to admit I lost touch with the Punjabi Market. I went to Pabla's maybe twice. Even moving to South East Vancouver in April, I stayed within the confines of Fraser St. on the West and Victoria Drive on the East.
Recently, I was very fortunate to have two special individuals enter my life – Ajay Puri and Gulzar Nanda. They took not only the initiative to meet with our Committee but both took initiatives to meet with me individually. With Ajay, earlier this summer, we walked around City Hall talking about his engagement work. In mid-summer I met with Gulzar over coffee, bringing Davinder and hearing their stories of growing up in the neighbourhood. Both Ajay and Gulzar share commonalities with me. We're all around the same age. Both of us have lovely partners (clearly better 1/2s), all three of us have lost a parent. I am so grateful for their passion for this City and their neighbourhood and that they were willing to welcome me into their networks with open arms.
This brings me to the picture  above . The Cultural Communities Advisory Committee decided to host its first ever meeting outside of City Hall in the Punjabi Market thanks to the work of Ajay and Gulzar. The tour of the Market was incredible – I learned so much about the history of the businesses, the art work, and some of the changes in the works. The Forum was equally aspiring, particularly the participation of the neighbourhood elders who were eager to engage with youth, sharing their wisdom while appreciating the young energy. I think some of the ideas that were recommended can be implemented very soon. I cannot wait to see what the next Diwali, a possible mural festival, and Indian cooking/dance classes will look like. I will certainly be there.
Now that we have these ideas, its time to start implementation. We have a host of really talented political candidates, who (whether elected or not) appear ready to ensure this neighbourhood is not forgotten for another four years.
As I said in my speech – I definitely view these next years with a sense of chardi kala.
Keep posted with the progress – https://www.punjabixmarket.com/
With gratitude!
Will