With the new Spousal Sponsorship Process having been formally rolled out, it is a good time to look at the changes and share some insights about what I like, what I dislike, and what I'm curious to know more about or see in-action moving forward.
CHANGES – AN OVERVIEW
I will defer to IRCC and their handy charts and guide to explain how things have changed.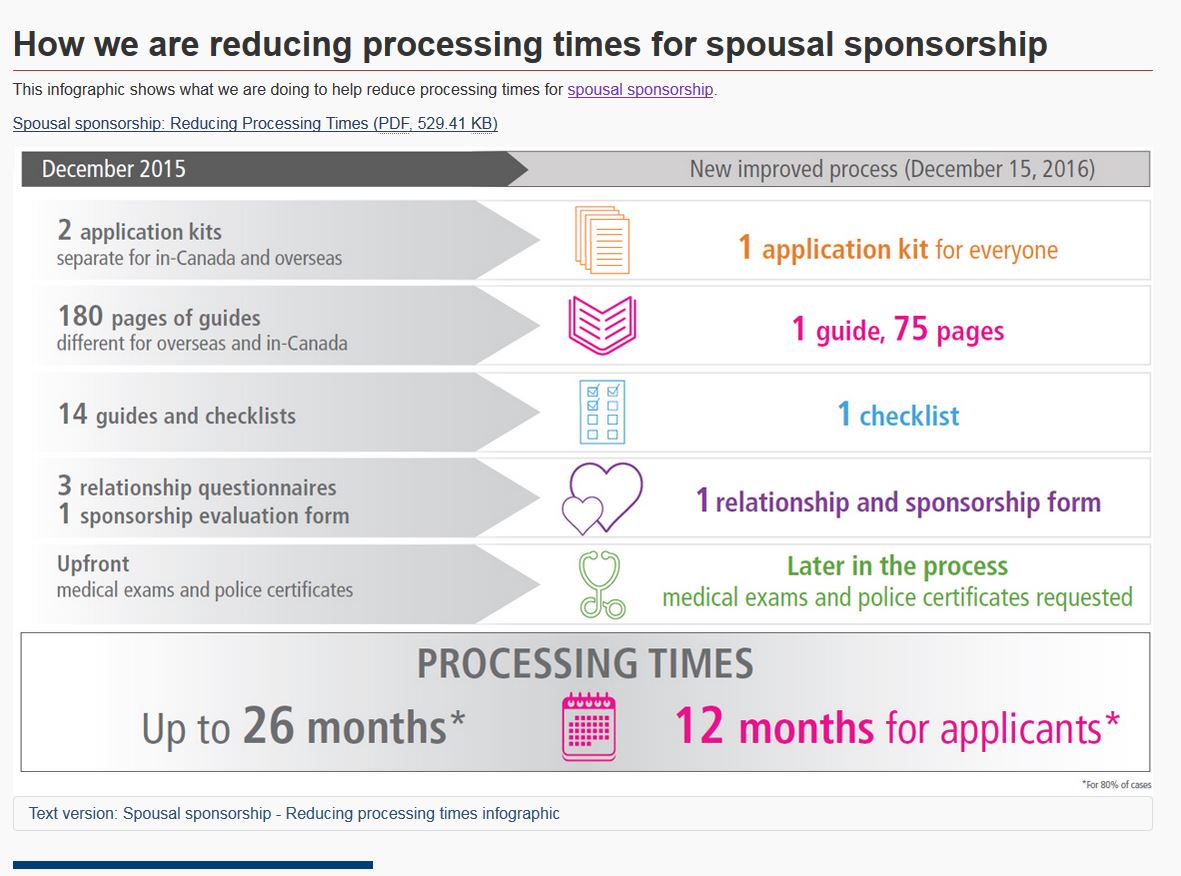 My understanding is that the focus on the new process was on eliminating unnecessary or duplicating forms, reducing the length of guides and other forms, and changing around the order of the process to avoid new medical requests or expired police certificates that would delay applications.
Importantly, for applicants, the processing times are projected to go down to 12 months for 80% of applicants. Prior to these changes, as illustrated, in-Canada applications and applications at select visa offices abroad took longer to process, many times 26 months and beyond.
Indeed, one of the major incentives for individuals who lived in Canada with status was to still pursue the Outside Canada process was that decisions would be made faster than they would inside Canada while preserving appeal rights.
Specifically, the changes are as follows: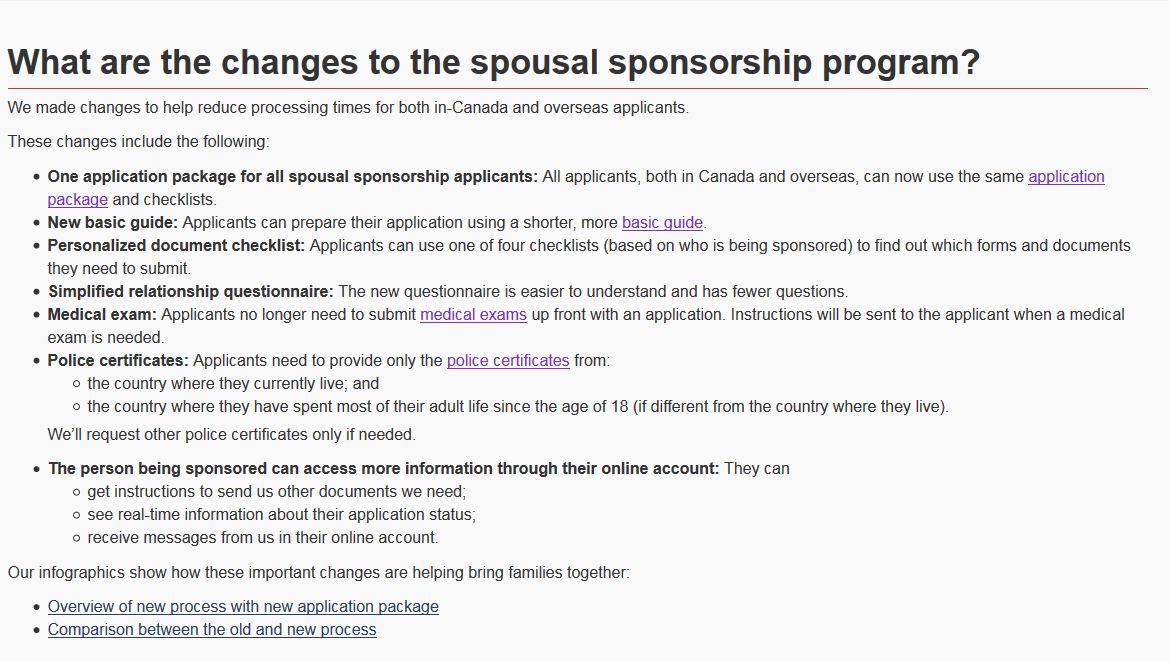 THE GOOD
Less Onerous Front-End Requirements
I like the movement of medicals and police certificates to the back end. I also like the fact that less forms are required.
Within the forms, there is less requirements for supporting evidence and now Applicants will be limited in the number of pages of documents and photos they send in.
However, I think that it will be useful to add more clearer instructions to applicant to begin gathering those documents well in advance. In some countries, the police certificates can take several months to obtain. These certificates could then delay the process well over a year. The reality is, the police certificate process is more onerous in countries with stricter governmental controls over information or increase bureaucracy/control around individual movements. In these countries, there is the added challenge of getting adequate translations or certificates that all can rear their ugly head into the process.
Better Forms and Clarification
The creation of one set of instructions (rather than two) in mind is a positive factor. Instructions are now much clearer – aesthetically and in terms of content.
The revised Document Checklist (although requiring more filling in) is now split into one for spousal sponsored spouses and one for common-law sponsored spouses.
Spouse Checklist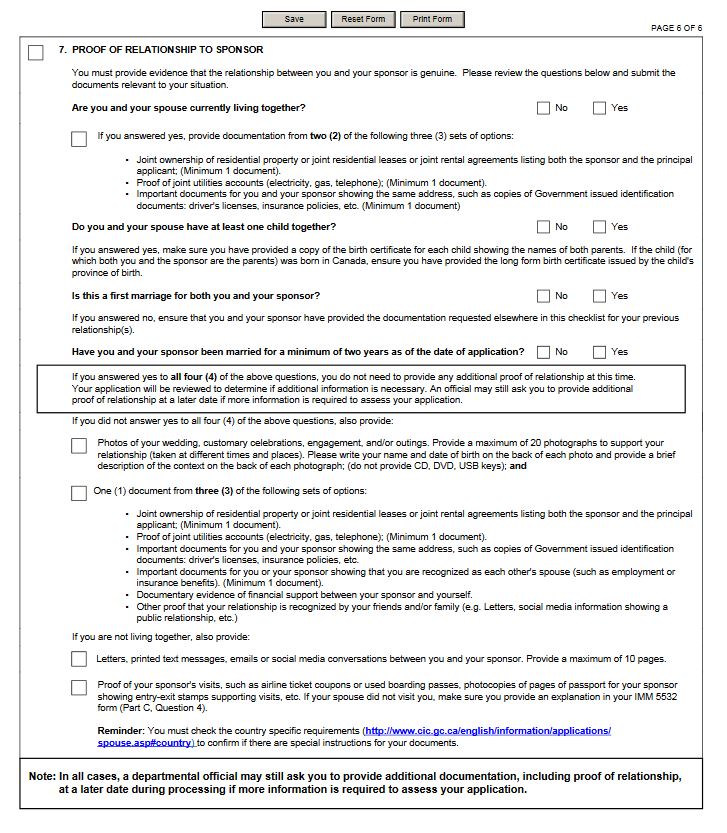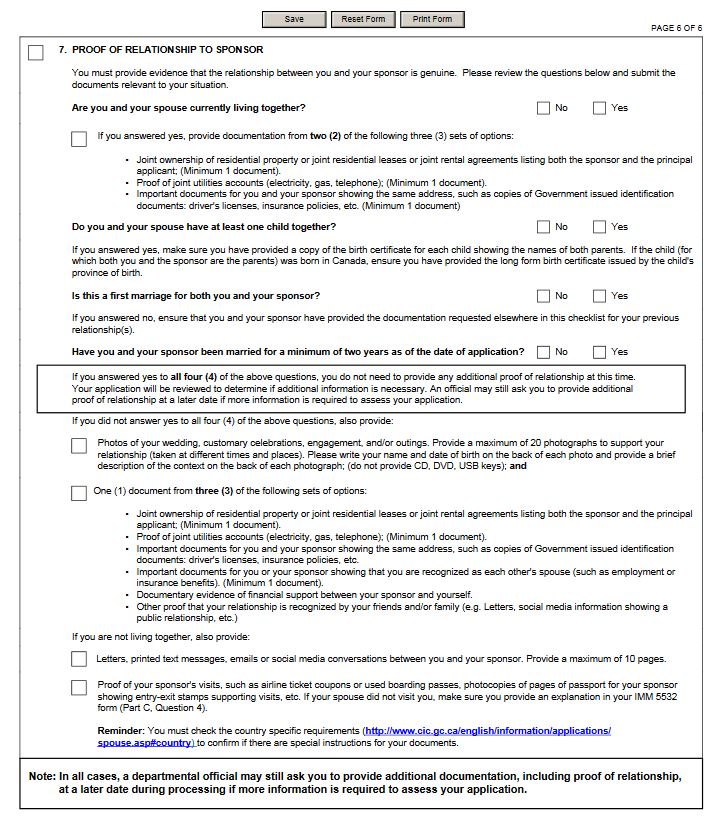 Common-Law Check List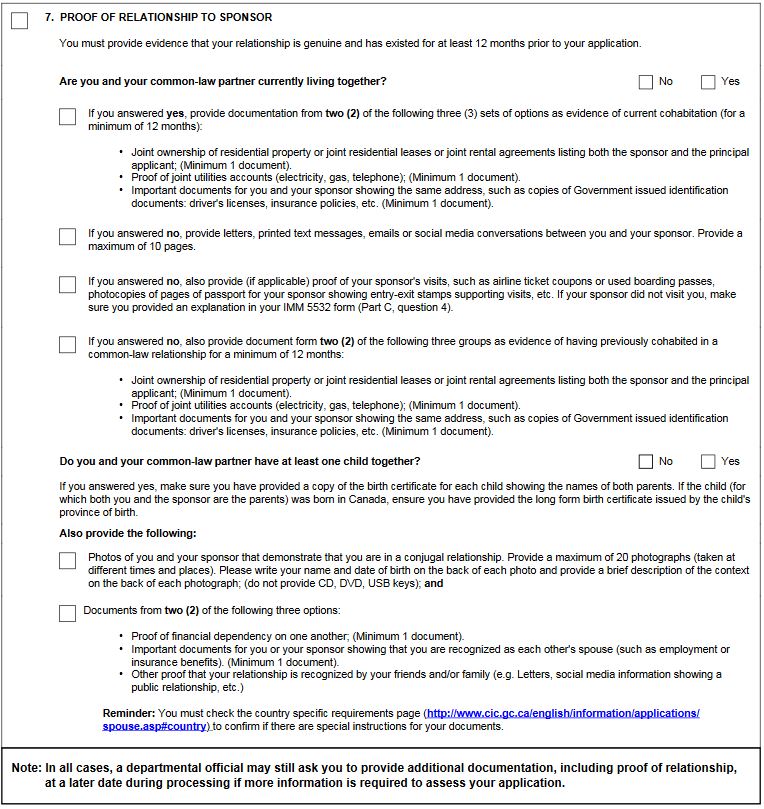 I still suspect (in the transition period) a little confusion over the two out of three and three out of four requirements in the above forms. Reading the fine-print becomes even more important now.
It will be interesting to see how this affects completeness of application (see below) and also whether documents will be rejected for not entirely meeting one of the criteria and thus necessitating a whole new requirement of additional information. Specifically, proof of important documents showing same address seems very broad.
Four Month Processing for Spousal Work Permit
The guide is also promising four month processing which is an improvement on the six months (and often longer) that was the earlier standard.

As you may have read from my previous pieces, I am a huge supporter of more bridging options and the fact that all spousal sponsorship where the Sponsor has been approved should facilitate some sort of visa to allow temporary reunification.
THE BAD
Basic Guide Leaves Out Important Information Found in Comprehensive Guide
Immigration, Refugees and Citizenship Canada ("IRCC") has two guides out – Guide 5525 (the "Basic Guide") and Guide 5289 (the "Comprehensive Guide"). The Basic Guide essentially attempts to summarize the information in the Comprehensive Guide in an shorter/easier to read format.
As my good friend and legal colleague, Ronalee Carey, points out – there is a lot left out in the Basic Guide which if relied upon without consulting the Comprehensive Guide can create major problems. She highlights the fact that the basic guide ignores the exemption for Minimum Necessary Income pursuant to R. 133(4) of IRPR.
She also highlights the way that it is not accurate/nor clear when an individual should be applying outside Canada or inside Canada, specifically where an individual has legal status in Canada (student, worker) and can apply outside Canada for the purposes of preserving appeal rights and possibly seeking faster processing at a less-burdened outside Canada office.
The Basic Guide states the following: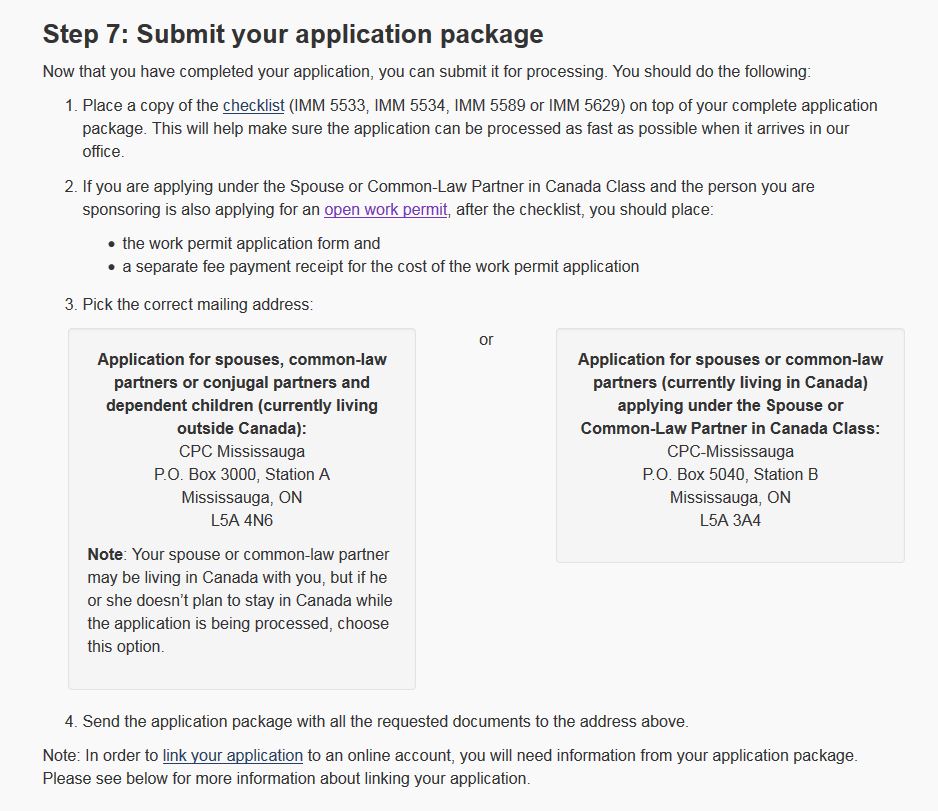 This issue appears to be repeated in the forms.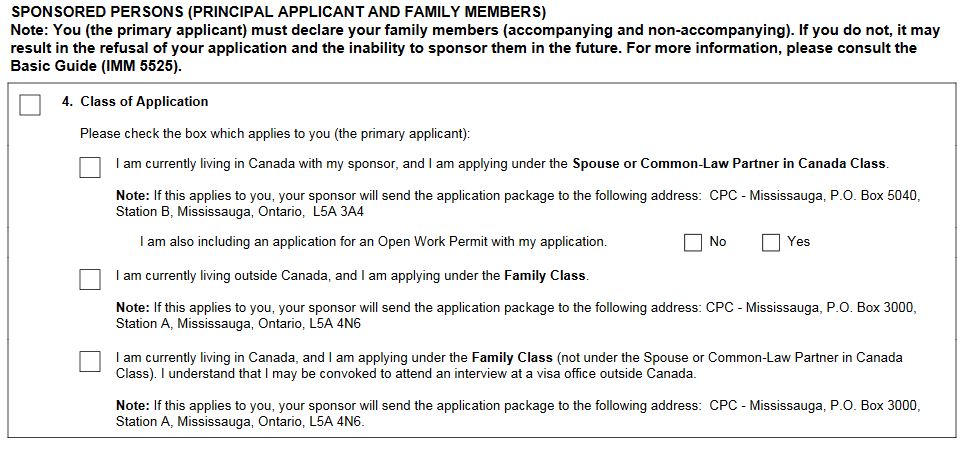 I would suggest however that even in the interest of space, it is important to re-iterate that the decision of which process and the consequences are much more important as we discuss immediately below.
Incentivizing Inside Canada without Explaining Legal Consequences
This is likely the biggest issue I see with the new system.
As per OP 21 – If a Canadian citizen or permanent resident makes an application to sponsor a foreign national as a member of the family class, and the application is refused, the sponsor may appeal the refusal of the application to the IAD [A63(1)]. The sponsor must be given the reasons for the refusal and also told of their right to appeal the decision to the IAD.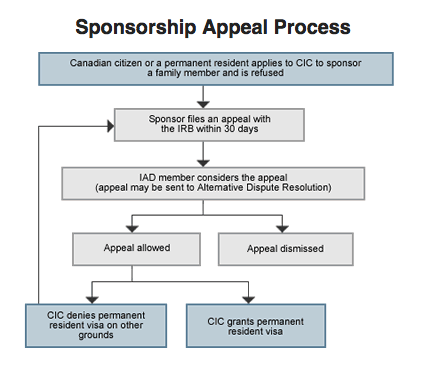 If IRCC were to go very strict and start refusing inside Canada applications for misrepresentation or even rejecting/refusing applications for genuineness or document sufficiency, these applicants (or their sponsors) would be limited to judicial review or seeking reconsideration.
I believe that there are still very real reasons to apply for the outside sponsorship process while inside Canada that are not explored in the instruction guides as they currently stand.
Not Enough Information re: Public Policy and Importance of Staying in Status

There are a couple areas where the status or maintaining of status for sponsored applicants it important: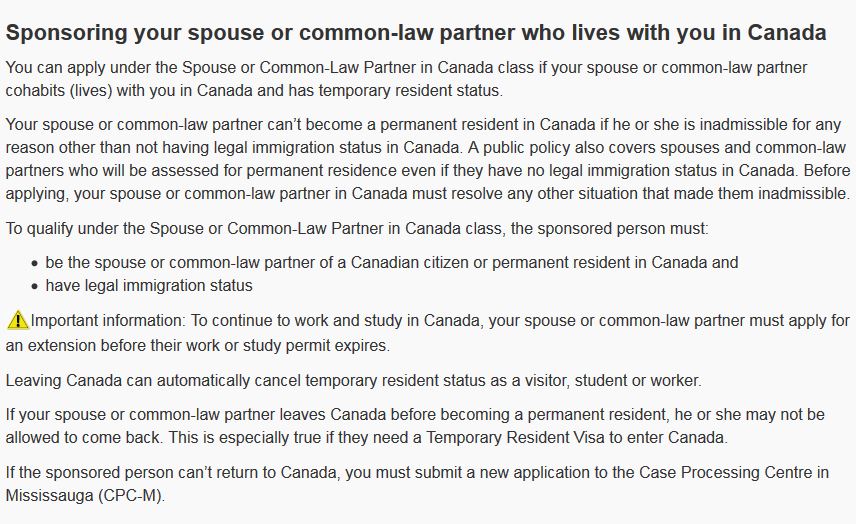 And this: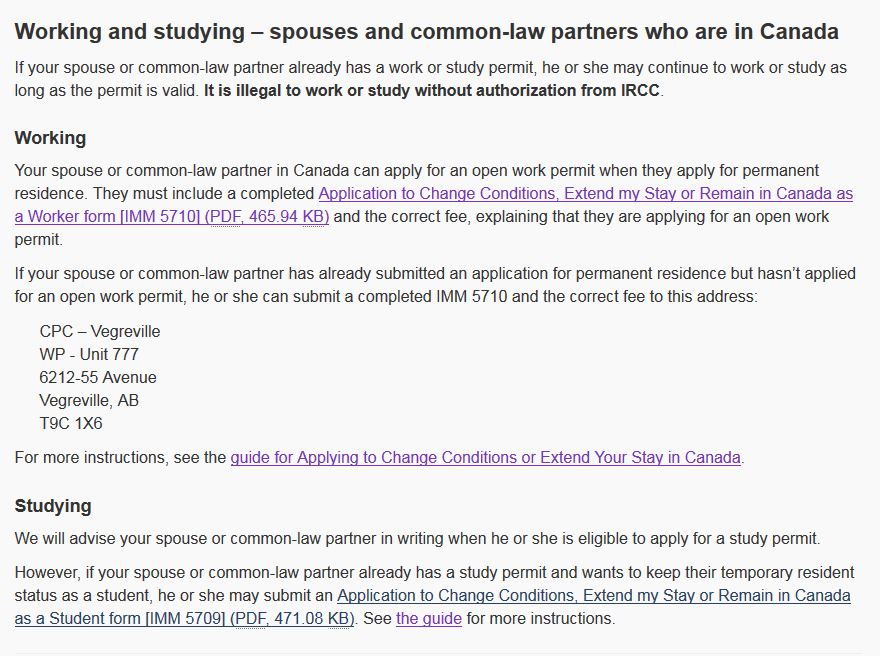 However, in my opinion it is not enough. Very few applicants I talk to know about IP8 – Manual and have read the public policy (pages 64-79). I think there should be a greater onus on IRCC to educate on a very important provision.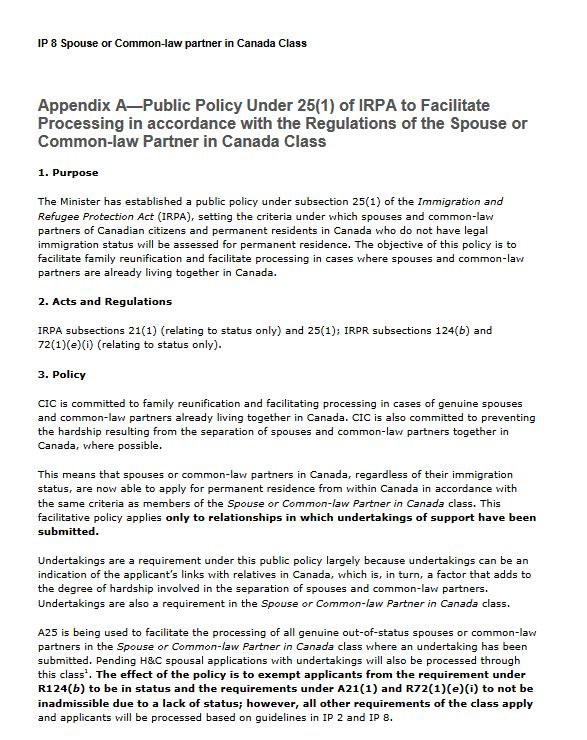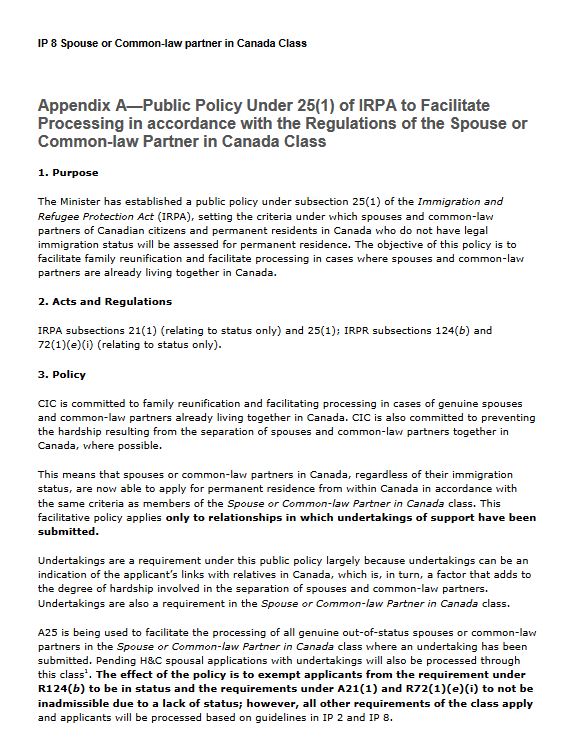 In fact, in a case I dealt with last year, the Call Centre instructed an inside of Canada spousal applicant who was out of status to turn himself into the Border, a move which would have been devastating for their future in Canada.
There needs to be clarity on "out of status" spouses for inside Canada to be more effective, particularly in the stricter manner in which they are assessing application completeness (see below).
Technical Issues
Normally, I would put something like this in the "to-be determined" category, but my predictive wisdom tells me that if Express Entry and the eTA are any indication, there will be major issues with linking accounts and the receipt of email documents.
One of the changes is that the Schedule A is now being moved to a mid-processing requirement, requested after the linking of a paper application to the electronic system.
I have seen linking issues time and time again delay Electronic Travel Authorizations and Express Entry Applications. It will become very crucial for applicants to accurately and adequately keep record of what they submit for their sponsorship and at the very minimum keep a copy of their physical application.
Also, with technology even the type of internet browser used can affect the process.
For example with Mozilla Firefox right now, the select your documents page looks like this: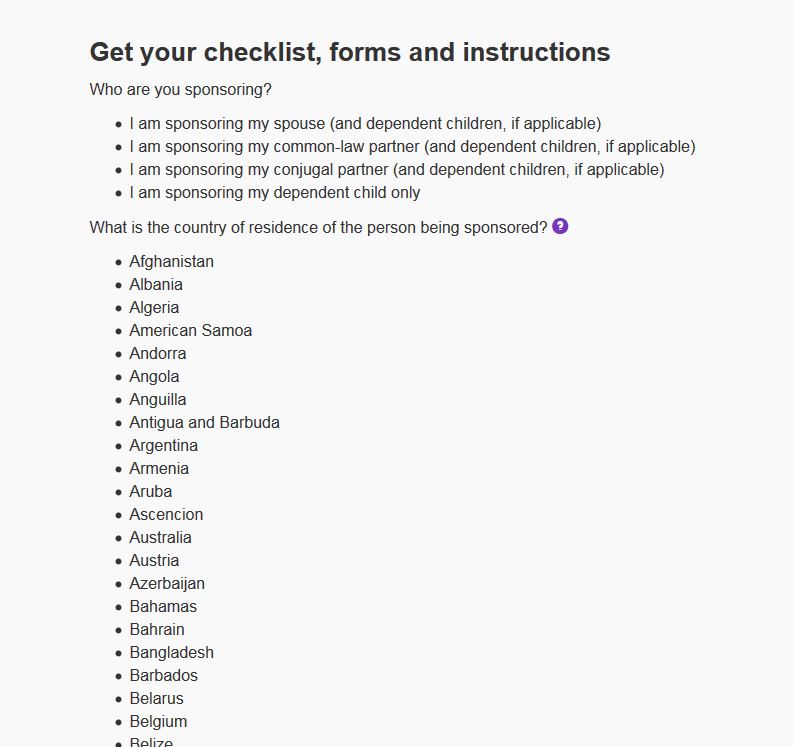 Where as with Google Chrome, and it as it is supposed to look like, the select your documents page looks like this: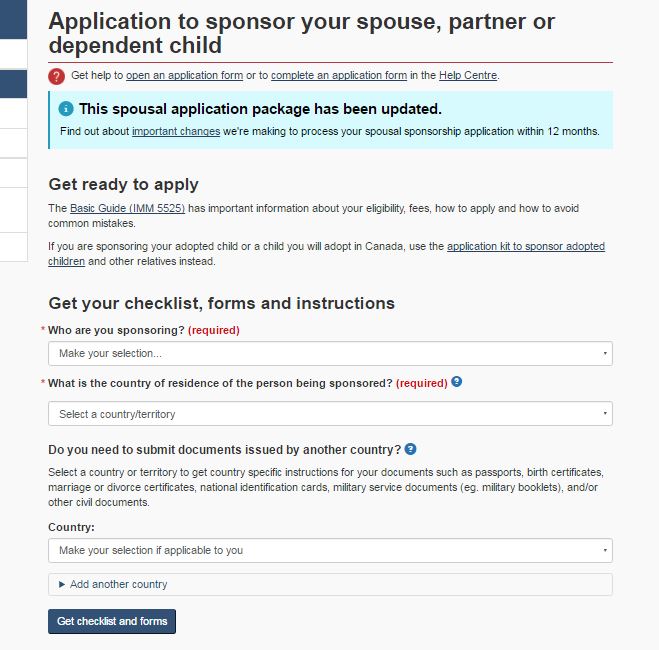 Incomplete Applications
IRCC has indicated that it will take a stricter approach to returning incomplete applications and have emphasized that in order to meet processing times, they may not be as generous with making information requests.
If Express Entry is any indication (where early estimates in the first year of roll out were that in the bull-park of 25% of applications were returned as incomplete), this could be a serious problem. This is particularly true for out of status spouses in Canada or where a refusal will leave a client out of status.
Again, I think more clarity needs to be introduced clarifying the completeness check process for spousals and also what an out of status spouse can do in the circumstances.
I can see very real situation where an Applicant submits only 3 out of 4 where the documents require 4 or prove only 1 out of 3 instead of 2 out of three of one requirement. If they mail this application in, they may only find out months later when the individual then begins to run into status problems.
Is an application where the individual sends more than the required documents […]
Read More »