Recently, I have had a major increase in misrepresentation consultations and other related issues with one common starting point: incorrect work/personal history that either Canadian immigration has found or will eventually find out about.
There are several forms that canvass work/personal history. This ranges from initial application forms (IMM 1294, IMM 1295, etc.) to the IMM 5257E Application for a Temporary Resident Visa Forms, to the dreaded IMM 5669 – Schedule A.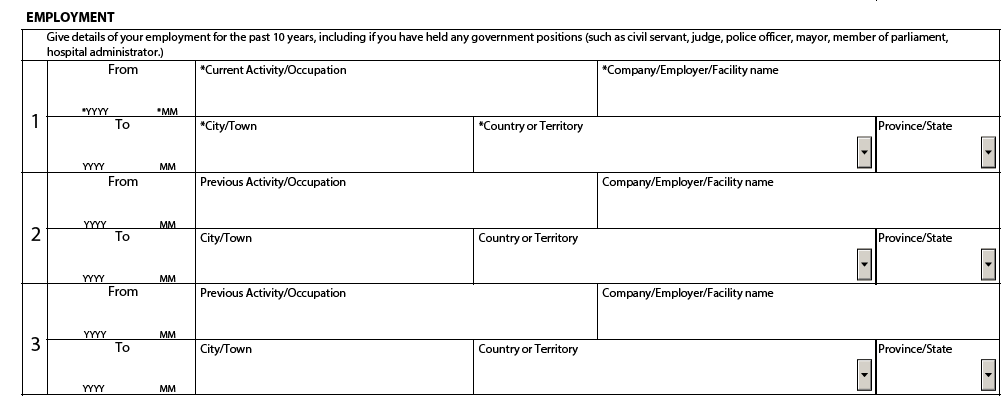 Each form (and accompanying instructions) often ask for the materials a different way. Some forms ask for only employment history, whereas others as for a full ten-year history. Complexities also arise when certain visa offices want a full personal history starting from the age of 18, but do not make these instructions apparent at the outset, requiring them later in request letters.
What often happens is a hot mess of unclear work dates, forgotten travels, mistaken residences, and IRCC analyzing all of these for possibly material misrepresentations that may impact officer assessment.
To make things even more complicated, misrepresentations can extend to past applications, even if it is attempted to be corrected. Memories are imperfect, what is required to be disclosed is confusing, and unfortunately perfectly innocent applicants can make devastating mistakes.
While there are some positive trends in judicial interpretation, the law around misrepresentation in Canada is harsh: a five-year bar from Canada (and from applying for permanent residence) regardless of the intent of the error or omission, and a thin-exception for innocent misrepresentation.
In this post, I look at three common mistakes I see applicants (and their representatives make) and how to avoid them. I will close with a new approach I am taking to documenting work history for my clients on temporary resident applications.
Mistake 1: Omitting Material Personal History/Blurring Dates Together
There are several sub-mistakes under this category:
[1] Applicants often include only their last position held, rather than to breakdown the various positions within a company
This one may seem innocuous now, but on a PR application or when facing an employer's reference letter that paints a different picture this could be an issue. Often times these dates are also contradicted by public information you may have about yourself online, such as your LinkedIn profile or a biography you hastily submitted to a third-party who has posted it online.
Visa Offices also have many internal tools at their fingertips. For example, for China, they have access to a quite comprehensive 'legal persons' registry for businesses. Particularly for entrepreneurs or businesspersons who own multiple businesses, failures to disclose one (even if it is unclear whether it constitutes employment or ownership) could constitute misrepresentation. This was the fact pattern in the Federal Court's decision in Sun v. Canada (Citizenship and Immigration), 2019 FC 824 (CanLII).
My rule of thumb is to over-disclose rather than under-disclose if there are no inadmissibility risks to the additional details being disclosed and it may set forward a good groundwork to get ahead of a potential issue or pave the way for a future application. If your disclosure of the item could affect your eligibility, consider whether applying on misrepresented information could come back to haunt you in the future.
Yet, many times the information being omitted is not itself going to change the decision of the Officer, but the very omission of the information could impact the Officer's processing or review of the requirements, which could make it a material misrepresentation.
[2] Applicants often don't include periods of unemployment, self-employment, and educational pursuits
Often times Applicants only provide just the formal work/employment history and forget to include the personal history. Again, the forms make it a bit confusing. In the description of the form, it asks for employment history, but in the fine print it may say to include periods of unemployment or leave no gaps. Another challenging aspect is that certain applications (co-op work permits and post-graduate work permits) do not actually require full disclosure of work history, whereas other applications (temporary resident visas inside Canada) do. We play it safe by including a running 10-year history for all applicants, regardless of it is a requirement.
This often rears its head as an issue when a visa is refused for lack of continuous study or lack of relevant employment history demonstrating there are opportunities in the country of residence. When it is only indicated that one is 'unemployed', the literal interpretation  the Officer will take is that you are at home doing nothing. Trying to start up your own business or taking pre-requisite courses for a formal program of study, is not sitting home doing nothing and may be very material. Failure to include this initially could create discrepancies later (see mistake 3 below).
[3] Applicants do not disclose sufficient details in the personal histories
In my work often reviewing materials for refused clients, often who applied the first time themselves or less competent counsel, there are common themes.
Rather than put detailed descriptions of position or title – words such as "employee" or "management" or "police officer" are used. Alternatively, when discussing employment rather than put the company or school name, answers such as "restaurant business" or "self-employed" or put down. Immigration Officers may want to conduct an inadmissibility inquiry into your former work place, or verify that you indeed worked for said employer or that such a company/organization exists.
If there is an admissibility concern or clarification to be made, make sure to make it on a letter of explanation or clarify (see attached). Too often I see clarifying explanation missing until after a Procedural Fairness Letter (PFL) is received. This is often times far too late in the game.
Mistake 2: Not Correcting the Mistake When IRCC Gives You a Chance (Requests vs. PFLs)
When IRCC notices an inconsistency (and depending on what visa office and what type of application), there may be the opportunity provided to fix an inconsistency. Commonly, especially if a misrepresentation is not apparent on the surface, a request letter will be issued offering an opportunity to clarify or seeking further information. `
The tendency with request letters, I find, is to blindly try and answer them as soon as possible. Applicants immediately take a defensive position, without thinking at that stage that the request letter could be the set up for an A16(1) IRPA (failure to truthfully provided requested documents) or worse yet, an A40 IRPA (misrepresentation) refusal. Given the withdrawal of an application is unlikely to be granted after a PFL is issued and the leg work is all but done at that stage, it is as the request letter stage that clarifications need to be sought and legal arguments made.
Repeated errors in providing accurate information or misunderstanding request letters could later lead to further challenges arguing innocent misrepresentation or seeking discretion later on in the process.
Mistake 3: Not Keeping Adequate Records and Inconsistencies Between Applications
Visa Offices such as those in India (especially Delhi and Chandigarh) and China (Beijing) now utilize artificial intelligence tools that will be able to spot an inconsistency instantaneously.
Before submitting an application, if possible, compare your forms with previous forms submitted. Better yet, request or obtain (by access to information) a copy of all final forms before a representative submits any application for you.
Another discrepancy I see is with address history, travel history, and work history on forms. Where these do not align, and particularly when it comes to permanent residence applications that look into where work was performed and where the Applicant was located, and whether or not the claimed work matches with past records – this becomes ever so important. Virtual work or work through multiple client sites is becoming more popular, and failure to properly document this in respective applications may complicate things when permanent residence rolls around.
My New Approach: Focusing on Forms First, and then Attachments
In the past, a move I did (and one I know many counsel mirror) is to put "please see attached" on the work history sections or personal history sections of some validated temporary resident forms and then add a work document. This option will not be available with the new online temporary resident portal, which like Express Entry do not allow you to move on to the next page until there are no gaps. In the interim, what I am suggesting with the validated forms is still to list as much as possible on the form and then add 'see attached' on the final line before continuing.
The reason for this is that IRCC has been focusing on auto-populating systems like Chinook that appear to extract information directly from forms into their internal processing system. I am worried that my attached table found at the back of my rep's submission letter is missed by a processing agent or in review. We know increasingly that the Officers are only accessing the information extracted for their review and are under a major time crunch. This little tip might help practitioners and self-reps.
Some Positive News: Court Critical on IRCC's Need for a Materiality Analysis of Misrepresentation
While misrepresentation is often a death trap for an immigration application, the Federal Court has recently been pushing back on the tendency of IRCC to equate a mistake as misrepresentation, without an analysis of materiality.
In Alves v. Canada (Citizenship and Immigration), 2021 FC 716 (CanLII), Justice Manson allowed a judicial review after finding that an Officer's finding of misrepresentation was unreasonable. The Applicant disclosed one of his previous refusals to the United States, but had omitted an earlier one.
Justice Manson writes:
[19] However, an officer must consider the totality of the evidence before the decision maker (Koo v Canada (Minister of Citizenship and Immigration), 2008 FC 931 at para 23). The Officer, in this case, failed to recognize the potential significance of the mitigating evidence, as it relates to the finding of misrepresentation without meaningfully coming to grips with the facts before the Officer. Instead, the Officer broadly found that the Applicant had […]
Read More »
Recently, I was on Global News, talking about international student fraud (often times originating from overseas) where students get lured into Canada on a study permit and end up as precarious, exploited workers. You can find that piece here: https://globalnews.ca/news/4409552/aldergrove-subway-allegations/
In today's piece I want to tackle a related issue that I have first hand knowledge of is affecting individuals across the spectrum – from individual seeking TRVs to study permits and work permits, and even to applications for permanent residence/permanent resident cards. This fraud takes place both inside Canada and outside Canada, although predominantly with unlicensed agents abroad or those agents who claim to work with "Canadian registered consultant partners."
This type of fraud has affected a recent client of mine. I'm sharing his story (with permission). I'm modifying the facts so this will have no impact on his future immigration yet it can still serve as a warning to those who get caught up in these type of situations.
Scenario
You are a citizen of China seeking to visit Canada where you have a sibling who is currently on a post-graduate work permit. You engage in the services of a local agent in the service of your small town on the outskirts of Qingdao. He says he is an immigration service. They have a 95% success rate and they can help you with the process. They say they will go to the Visa Application Centre ("VAC") VAC on your behalf. It is easier that way and you will not need to do anything other than to give them documents.
You provide them the documents. They tell you that they believe you will be granted a visa and to wait approximately three to four weeks for notification. They do not provide you any receipt or file number other than a brief voice message indicating it has been sent. You have not seen the final package.
They notify you on 29 April 2016 that your application was unfortunately refused but that the refusal was out of their control. They say that refusal decision appears to put the onus entirely on you for not providing enough financial documentation.
You see the letter. The heading says:

The letter is addressed to you, it has the file number.
The content of the letter says:
You accept the refusal as par the course. You don't blame the agent. Your family accepts it (they got their visas after all) and you let the matter go.
Several years later you find a licensed Canadian representative. You now wish to visit Canada again to celebrate your brother's wedding. Your brother hired a representative in Canada who assisted him on his PR paperwork (economic immigration) which went smoothly.
As part of the process, your new representative recommends that you do an access to information request to get a copy of the Officer's Electronics notes and the refusal letter. You ask for a copy of the physical file as well. you pay $5 dollars for this request.
A month later, IRCC responds stating that they have unfortunately disposed of your information in correspondence to their data retention policy. 
Two years have passed since the last administrative action. However, they do send you a copy of the refusal letter as per below:

This date is 6 days before the date of the refusal letter you received from your consultant.
There is also a different address located on the top of the letter – not just your name listed.

You also note the number of pages in the refusal is very different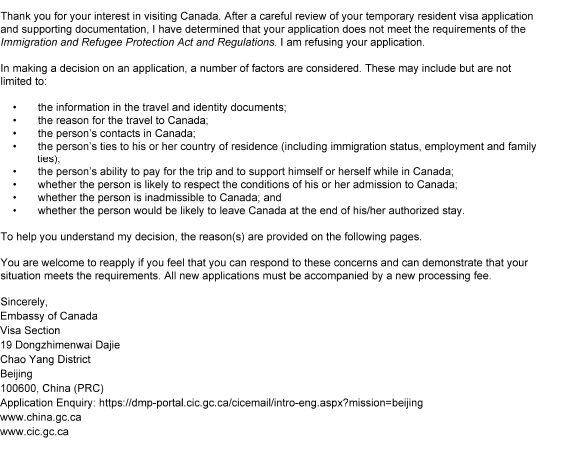 There is another page that you are surprised to see – that the refusal is not just one page long: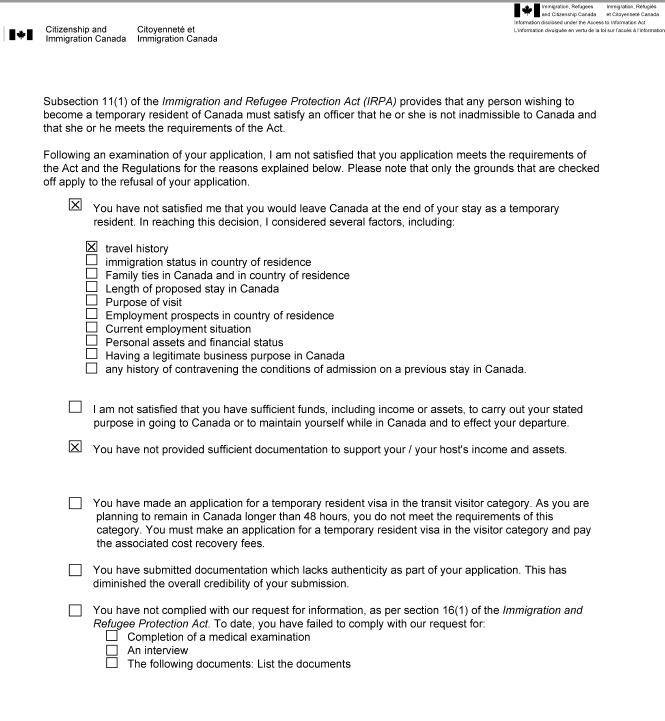 In the electronic notes, you learn from the notes that a large portion of the refusal was actually due to the submission of unclear photocopies.
The reasons for refusal were entirely the same as the one included in your letter for the consultant. Why was the refusal letter transferred to a new form?
Breaking Down the Fraud
There are two major elements to this particular fraud case. These likely are the reason why said fraud agent
1) The Date of Refusal – this allows these fake agents/consultants to sit on refusals. They can pass the decisions within their networks and decide how to scrub them before sending it to you. While in this case they did not adjust the reasons for refusal, it would be very foreseeable that they would scrub it for wrongdoing (misrepresentation, poorly submitted documents, etc.);
(2) The address of the agent involved. You did not ask a Beijing firm for support. Why is there a Beijing address? By scrubbing the refusal letter and writing their own fake one, they were able to preserve their network of addresses. This would stop a line of investigation from IRCC. This would insulate the fact that the individual in Qingdao was not doing the work potentially and may have been a sub-agent for someone in Beijing.
Best Practices
As a client, you should always review everything that goes out, demand a copy of everything that is sent on your behalf, and require a file number as soon as possible. If you are passive and don't take these steps, these are the types of frauds that will be perpetrated on your behalf.
While in this case, the only misrepresentation was a passed on refusal letter (not anything directly submitted to IRCC), it would not be out of ordinary for a fraudulent document to have been submitted on your behalf. With two years having passed, you will have no way of ever knowing.
I encourage all applicants to act prudently. Immigration works very differently than likely in your own countries where the process may be done in person, or through a process where you know exactly what is being passed on and when. With the move to electronic communication, and the lack of regulation of overseas agents, expect to see much more of this moving forward until preventative steps (such as sending a copy of the entire file to the client as well as the agent) are implemented. by IRCC.
Read More »
Within the realm of Canadian criminal law there is a fundamental principle that the punishment should be proportional to the crime an individual convicted of. Under Section 718.1 of the Canadian Criminal Code it is written as follows:
Fundamental principle
718.1 A sentence must be proportionate to the gravity of the offence and the degree of responsibility of the offender.
There are are also various sentencing principles meant to guide the discretion of decision-makers to ensure that the sentences are properly set down. These include factors such as potential rehabilitation and whether the punitive and societal aims of the proposed sentence are met.
During the previous government's tough on crime focus, this led to the introduction of the Faster Removal of Foreign Criminals Act (FRFCA) which clearly was introduced with deterrence in mind when it came to punishing foreign nationals and permanent residents for misrepresentation. In my assessment, I believe that not enough attention was paid to the overall requirement of proportionality.
The Regulatory Impact Assessment Statement issued in support of regulatory changes states (my emphasis added):
1. Misrepresentation

An examination of the effectiveness of the IRPA's current misrepresentation provision — that is, the two-year period of inadmissibility that bans a foreign national from entering or remaining in Canada because of directly or indirectly misrepresenting or withholding material facts that cause an error in the administration of the IRPA — determined that it is not sufficient to deter fraudulent applications, particularly for permanent resident applicants, as processing times in this stream can be in excess of two years. In those cases, permanent resident applicants who have been found to have provided false information can simply reapply almost immediately and wait in the processing queue for the two-year inadmissibility period to be completed. In practice, there is little or no consequence for these applicants.

Increase consequences for misrepresentation

Amendments to existing regulatory provisions related to misrepresentation would support legislative changes that provide a stronger disincentive for applicants to provide fraudulent information on their immigration applications. The changes would also help ensure that the processing of legitimate applications is not delayed by fraudulent permanent resident applicants who reapply and wait out their period of inadmissibility in the processing queue.

In addition, the increased consequences for misrepresentation would make Canada less vulnerable to immigration fraud by bringing consequences in line with Canada's like-minded international partners. A stronger deterrent for misrepresentation would benefit Canadians by ensuring travellers and immigrants admitted to Canada meet the criteria established to support Canadian immigration objectives, and would increase public confidence in and support for Canada's immigration program.

The two-year penalty is shorter than those imposed by Canada's like-minded international partners, which makes the Canadian immigration system more vulnerable to abuse. Other countries appear to have more severe penalties, for example:
Australia: three-year ban on visas where false or misleading information is provided;

United Kingdom: 1-, 5-, or 10-year ban on re-entry (length of ban depends on severity of false representation); and

United States: lifetime inadmissibility (i.e. ban on entry) for visa fraud or misrepresentation.
See: http://www.gazette.gc.ca/rp-pr/p1/2014/2014-06-07/html/reg1-eng.php
I think one of the challenges is equating all of those caught under s.40 IRPA misrepresentation with fraudulent permanent resident applicants. There may be (and I have seen many) individuals who made genuine mistakes in misrepresenting themselves (or hiring the wrong person who misrepresented for them), when in fact they often had recourse to other routes such as their bona fide permanent resident applications.
Essentially, what you have amounts to a very broad provision under the immigration inadmissibility for misrepresentation (s.40 of IRPA) [separate from the immigration offense of misrepresentation under s.127 IRPA] which can cover several non men reus incidents such as unknowingly withholding material evidence or having a third party indirectly misrepresent on behalf of an unknowing applicant who has paid for the services.
In an overseas foreign national applicant's situation, they can be issued a five-year ban in writing. This takes places, a majority of the time, after a procedural fairness letter is issued giving them the opportunity to make representations and supplements the refusal letter
In an inland situation, a foreign national applicant is written up for misrepresentation and referred to the Immigration Division who are usually bound to enforce the order. The first stage of this reporting process takes place at the Port of Entry or with the help of Inland Enforcement as coordinated by Canada Border Services Agency ("CBSA").
Generally speaking CBSA is bound to pursue the misrepresentation allegation, but I have been successful in a few occasions to have them "commuted" (so to speak) to lesser non-compliance findings that can carry a one-year exclusion order. I strongly agree with this practice, but again I think without anything written down on paper to support it, it becomes a remedy that is difficult to ultimately rely on or seek – Good in effect, but not effective in law.
The Consequences of Misrepresentation are Heavy
As per A40(2) and (3) of IRPA, the inadmissibility period is five years. The FRFCA announcement added a five-year bar to applying for permanent residency.
Currently, there is a lack of clarity on whether IRCC has the discretion to ARC back a misrepresentation client as a permanent resident or only as a temporary resident. I have heard from various individuals in private practice that this is done but ultimately with some inconsistency.
I am currently in the process (by ATIP and coordination with various Immigration, Refugees and Citizenship Canada ("IRCC") Offices/Officers to seek some clarity).  I believe there is some incongruity to allowing the ARC back of a temporary resident (a visitor or worker with a bona fide purpose), but not a permanent resident who may have been part of a genuine relationship unrelated to the misrepresentation.
I will not get to it in this piece, but there are also quasi-criminal, regulatory, and criminal punishments for misrepresentation that could render an individual inadmissible to Canada for criminality in addition to misrepresentation.
Why I like the U.K.- style Approach Better to Misrepresentation
I think applying a five-year inadmissibility and five-year bar on PR for misrepresentation is both too light and too heavy, all at the same time.
I am in favour of strict punishment of mens reus perpetrators of misrepresentation. Those that purposely committed or instructed the commission of fraud in order to seek entry or status in Canada. Individuals who are part of larger efforts to defraud fellow immigrants (in addition to being punished regulatory wise) should face the highest form of punishment.
However, there are simply too many cases where it really is the unfortunate promise of a purported "trusted immigration representative" or even cases of ignorance, albeit willful blindness, of Canadian law. I believe CBSA should have some legal recourse, written in legislation, to provide these individuals with a two-year bars or even a five-year inadmissibility period, but a waiver of the five-year PR bar.
I think the way to handle the issue of "discretion" is to make is clear that the Immigration Division/Visa Officer/Immigration Appeal Division's decision is not subject to appeal in the case of a foreign national and that they have a broad ability to determine the reasonableness of the ban.
How would I re-write A.40(2) and (3) 
Disclaimer: this is not the law and merely my legislative rewriting for the purposes of this piece. Changes in italics.
Application

(2) The following provisions govern subsection (1):

(a) the permanent resident or the foreign national continues to be inadmissible for misrepresentation for a period of between two and ten years following, in the case of a determination outside Canada, a final determination of inadmissibility under subsection (1) or, in the case of a determination in Canada, the date the removal order is enforced. The sole discretion in determining the length of misrepresentation will fall to the Immigration Division or an overseas visa officer, in the case of a foreign national, or the Immigration Appeal Division, in the case of a permanent resident, and is not subject to the right of appeal.

Marginal note:

Inadmissible

(3) A foreign national who is inadmissible under this section may not apply for permanent resident status during the period referred to in paragraph (2)(a), subject to the discretion of the Immigration Division, in the case of a foreign national, or the Immigration Appeal Division, in the case of a permanent resident, to waive the requirement due to the Applicant's mitigating factors.

(a) Mitigating factors can include, but are limited to:

(i) demonstrable evidence of the Applicant's remorse;
(ii) demonstralve evidence of the Applicant's efforts to come forward proactively with their misrepresentation;
(iv) demonstrable evidence that the Applicant has rehabilited themselves of the factors that have caused the misrepresentation and will not commit future misrepresentations; and
(v) demonstrable evidence that the Applicant's misrepresentation is not related to the grounds by which they end to 
(b) The decision of whether to add section (3) as a term of the period of inadmissibility under section 3(a) will fall to the Immigration Division or an overseas visa officer,in the case of a foreign national, or the Immigration Appeal Division, in the case of a permanent resident, and is not subject to the right of appeal.

I think such a system would create a much more rehabilitative process for those who have made mistakes and are willing to correct them, yet at the same time can be used to punish those who have committed egregious misrepresentations.
What are your thoughts on this? Do you agree or do you like the one-size fits all, easy come easy go approach, that is currently written in law?
Read More »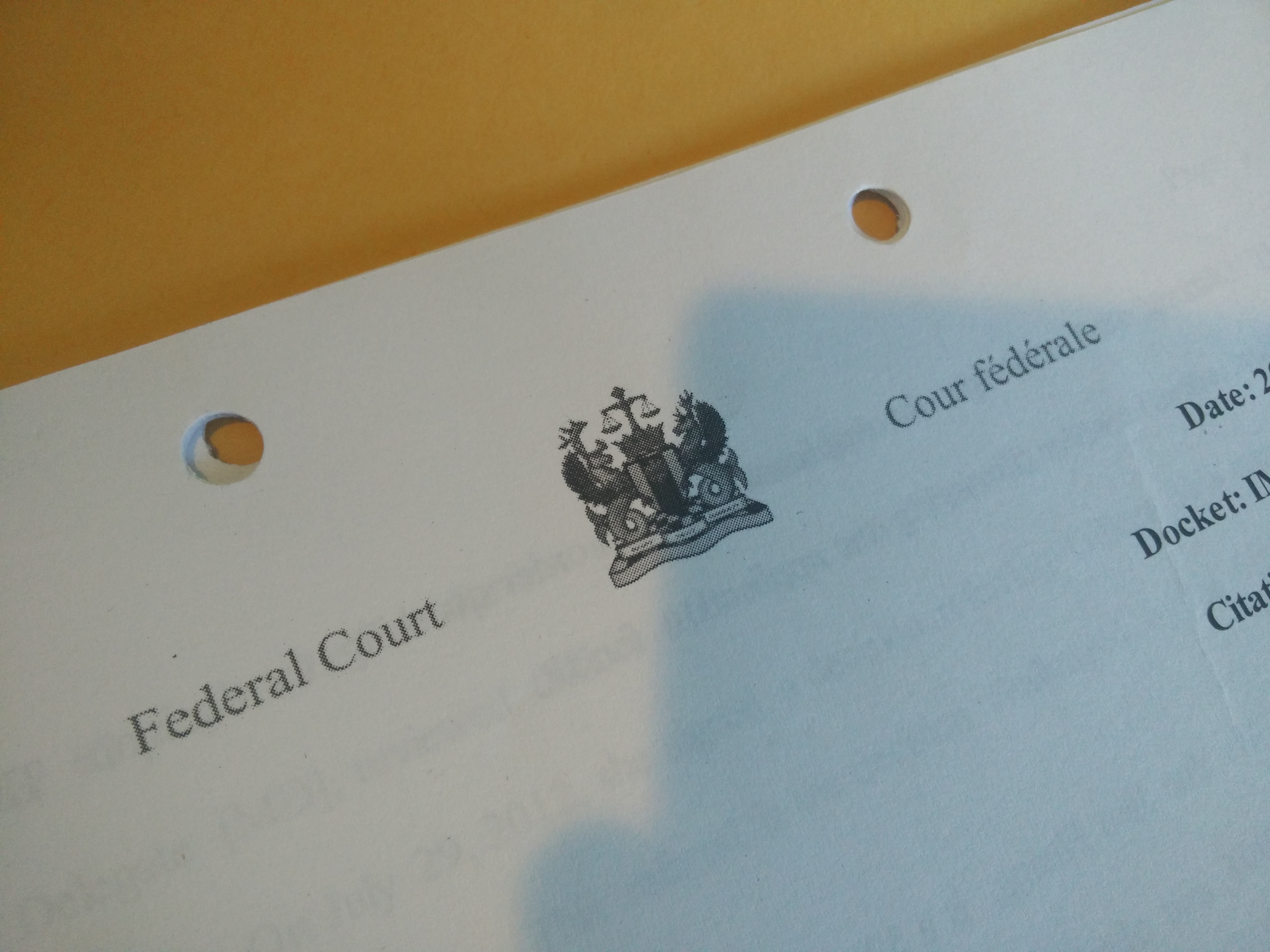 Introduction
My mentor and colleague Steve often tells me when I go on and on about having found the "perfect precedent" for my case that in the realm of the Federal Court such a term is not so easily contrived and applied.
The fact specific nature of immigration inquiries combined with the cautious nature of many judgments written by the Bench that emphasis this, make it often difficult to establish precedent. The standards of review (reasonableness and correctness) themselves open up a certain level of discretion. What may be reasonable in one circumstance can become unreasonable in another. What is procedurally fair in one circumstance can be unfair in another.
More often than not using Federal Court case law (in the context of Federal Court) becomes the task of not arguing whether legal principles are right or wrong but taking your client's case, case law in support, and case law not in support, and sussing out the factual nuances.
Certifying a question, the only way by which the case can go to the Court of Appeal and eventually to the Supreme Court of Canada is becoming more and more difficult.  You are more frequently seeing Federal Court judges rule this way: (example taken from Steve's recent win in Federal Court in Gupta v. Canada  (Public Safety and Emergency Preparedness) 2015 FC 1086).
[26]           The respondent takes the position that this matter is too fact-specific to merit certification of a serious question of general importance. At the respondent's suggestion, I will not certify a question.
That being said, there is a recent case of  cautious judicial writing but one that makes what amounts to quite a strong criticism of some of the elements of the CIC's current practice if sending admissibility procedural fairness letters.
For those that are new to the term, procedural fairness letters are the letters CIC sends when there is further information they need or further submission they require you to make in order to dispel them of their concerns. In some application contexts, failure to submit an adequate response will lead to applications being thrown out. In other contexts, such as inadmissibility, the consequences will be more sever as an s.44 inadmissibility report may be written up on your client.
For immigration lawyers/practitioners, it represents the first (and possibly last) opportunity we will have to effectively represent the client before any litigation (i.e. Federal Court and Immigration Appeal Division in some cases) where the onus shifts quite drastically to the Applicant to prove his or her case.
Guerrero v. Canada (Citizenship and Immigration) 2015 FC 1086
The Guerrero case is a very interesting one for the situation is not an uncommon one but the consequences are quite severe. In fact, in our office we have done a few consultations on related situations.
To sum it up briefly (as you can read the entire case: here), Mr. Guerrero applied for permanent residency through the Federal Skilled Worker program in 2010 and added his wife, Merambel, after marriage in 2013. During his interview  at the Port of Entry and prior to finalization of the PR application, it came to light that Guerrero had had an affair with a lady named Martinez (a coworker). He made some statements at the Port of Entry during his interview, that formed the basis of Officer's notes.
Based on CIC's concern about the relationship, a procedural fairness letter sent referencing misrepresentation and the bona fides of the relationship. In response, Mr. Guerrero sent statutory declarations and provided evidence of his relationship.
Finally a decision was issued, finding that he had misrepresented himself in statements he made at the port of entry as they contradicted with his written statements in response to the procedural fairness letter.
Justice Southcott's decision in Guerrero turned on an analysis of procedural fairness and whether the failure to provide the Applicant a fair opportunity to contradict or corrective statements amounted to a breach of procedural fairness.
Justice Southcott's decision, I found, very clearly distinguished between situations where the applicant themselves provides information versus the use of extrinsic information that the applicant is unaware of (para 28 of that decision).
The nuance here is that Justice Southcott found that the officer's port of entry notes, containing statements purported to have been made by Guerrero and Martinez, was not considered evidence that Mr. Guerrero should have been aware of. Justice Southcott writes (emphasis added):
[31]           The challenge for the Respondent in advancing this position is the fact that, prior to production of the Certified Tribunal Record as part of this judicial review application process, the Applicants had never seen, reviewed or approved these notes. The notes are therefore different from a written statement or other documentary evidence submitted by an applicant and different from someone else's record of what an applicant has said where the applicant was provided an opportunity to review such record. In my view, in the absence of such an opportunity, depending on the use of the record, the duty of procedural fairness may be engaged so that the impugned individual is not deprived of the opportunity to raise concerns about whether the statements were recorded accurately.
Interestingly, Justice Southcott went into an even more nuanced analysis by looking at the specific language of the procedural fairness letter and whether it provided the Applicant with the required opportunity to respond. He concluded that the letter (emphasis added):
"does not set out the detail of the statements, purported to have previously been made by Guerrero and Martinez as reflected in the port of entry notes, on which the Officer's concerns were based. Guerrero's affidavit, filed in support of this judicial review application, states that he advised the CBSA officers in November 2013 that his relationship with Martinez came to an end in April 2013 when he married Merambel and that he never stated that he would end the relationship when his wife came to Canada."
Finally, and again consistent with what I was discussing earlier, Justice Southcott applies judicial caution in explicitly suggesting that this case was fact specific and that he was not suggesting a general requirement for the provision of Officer's notes (usually obtained by counsel at ATIP but sometimes only received at the CTR stage). He writes (emphasis added):
[40]           I am conscious of the Respondent's point that it is not common practice to provide port of entry notes in circumstances such as these as part of the duty of procedural fairness. I am not suggesting that there should be a general obligation to do so. Rather, my conclusion is that, in the specific circumstances of this case, given the particular use that was made of such notes by the Officer in making the Decision, the content of the procedural fairness letter did not contain sufficient detail to satisfy the duty of fairness. My finding is that the Officer's approach to the discharge of that duty was accordingly incorrect and, if I were to afford some degree of deference to the manner in which the Officer approached that duty, I would also conclude such approach to be unreasonable.
Why I Hope This Case Gets Emphasized More By Counsel
Even in light of all of Justice Southcott's cautious reasoning, I think his analysis does raise a very real challenge to the status quo of broad procedural fairness letters.
For example, in one of the recent cases we worked on in this office relating to criminal inadmissibility, we were quite sure the tactic of CBSA was to pass the ball to us first rather than to have them weigh through the thousand pages of evidence. The procedural fairness letter was very broad and did not even specify what criminal code provision our client was being found to have 'committed' an equivalent offense under.
While perhaps most relevant in the inadmissibility context, where the consequences on the applicants are very severe, I could see this principle applied to all types of economic and family immigration cases. Many procedural fairness letters that are sent are standard-form, and certainly much less detailed than the ones the Guerrero's were afforded.
While the practice of counsel ATIPing to get the 'cards held by CIC/CBSA' will continue, it does suggest that our immigration officials need to be more thorough in laying out their claims before sending the letters.
Read More »