Introduction
For many individuals making Canadian immigration applications, the receipt of a letter from Immigration, Refugees and Citizenship Canada ("IRCC") highlighting the insufficiency of the evidence provided or the potential allegation or misrepresentation is a very stressful moment.
For those that have received these letters, particularly applicants that are self-represented or sought the advice from a representative that "kept them in the dark" on their applications, this is often where hiring an immigration lawyer starts becoming a major consideration.
Especially in cases of misrepresentation, where the consequences of a five-year bar are so serious and the definition of misrepresentation so broad, this is where the response has to be timed very carefully, and I dare say it, near perfectly.
Before reading my piece, I would highly recommend pre-reading a few pieces from my senior colleague Steven Meurrens (here – on responding to procedural fairness) and (here – on extrinsic evidence). Steven does a very good job of highlighting the key principles taken from Federal Court jurisprudence.He is indeed a master of administrative law.
Some of Steven's highlighted principles include:
the requirement that the Applicant knows the "case to be met" and that the Applicant has the opportunity to respond to extrinsic (i.e. third party) evidence;
that there are exceptions to the classification of extrinsic evidence, especially where the Applicant ought to have know that material would be consulted (i.e. company website); and
the idea that a procedural fairness letter cannot "bait and switch" – allege a set of allegations and concerns and then refuse on allegations that were not put forth to you; and
that if you would like to provide further information (that is pending) you will need to indicate this in your procedural fairness response.
I wanted to add to (supplement) Steven's work a practical step-by-step analysis of how I breakdown a procedural fairness letter. DISCLAIMER: As with any example, it is not to be treated as overall legal advice. It is not also to suggest that I recommend going at it alone based on my experiences. What I want to do is to encourage a deeper level of thought before the immediate impulse to send back a response the next day stating "it wasn't my fault for the mistake, it was the consultants" or writing a letter to immigration pleading them to give you leniency. I see these responses too often and often cringe when it is far too late for us to do anything about it (word of truth: there is often a point of no return).
In this piece, I will focus on a situation where an applicant is refused in the context of an economic immigration application (i.e. CEC) but I would suggest these principles are broadly applicable. I also note that much of the case law and jurisprudence, predated Express Entry which has very sped up the process of adjudicating applications. I will not get into the whole discussion of incomplete applications (subject of another post) in favour of discussing solely concerns over the merits and credibility of an Applicant's application.
My Usual Process
1.Setting out Perimeters Prior to Submission of Application

My recommendations do not start with just the letter itself. Before submitting any application, it is wise to be aware that a procedural fairness letter or a request for further information is very common and more common in complex cases where the facts are messy.
For self-reps, this involves keeping a very good record of all documentation submitted. Scanning copies of all files prior to submission and keeping a running tally of issues you are concerned of can help prepare for the response.
If you are represented by a legal advisor, I stress this time and time again in my posts that you not should have but must demand access to all the materials submitted. I would set guidelines with my advisor to make sure anything submitted in final form is reviewed before it is submitted. You can also tell this advisor that you are aware of the procedural fairness letter process, that you are aware of the process of utilizing Access to Information to obtain a full copy of your file, and that you would appreciate timely passing on of all correspondence in original form. If you do not speak English, find a translator or interpreter to work on your side.  You can even use this opportunity to gauge the understanding of your representative of this process and their experiences. A lack of knowledge of these should be an immediate red flag. Make sure to retain your own copy of your immigration file and keep it in an accessible place. I recommend physical scanned copies too as forms often will revalidate or adjust and eventually serve as proof of anything other than an editable form.
I have heard too many horror stories of unlicensed consultants withholding misrepresentation refusal letters or putting in additional documents not at the request of the Applicant. These practices could have a devastating impact on your future application.
2. Studying and Breaking Down the Procedural Fairness Letter
The format of these letters usually follows a set pattern
The first paragraph or two paragraphs will be rather template language, alleging that you do not meet certain requirements of the Act on the basis of what you have submitted;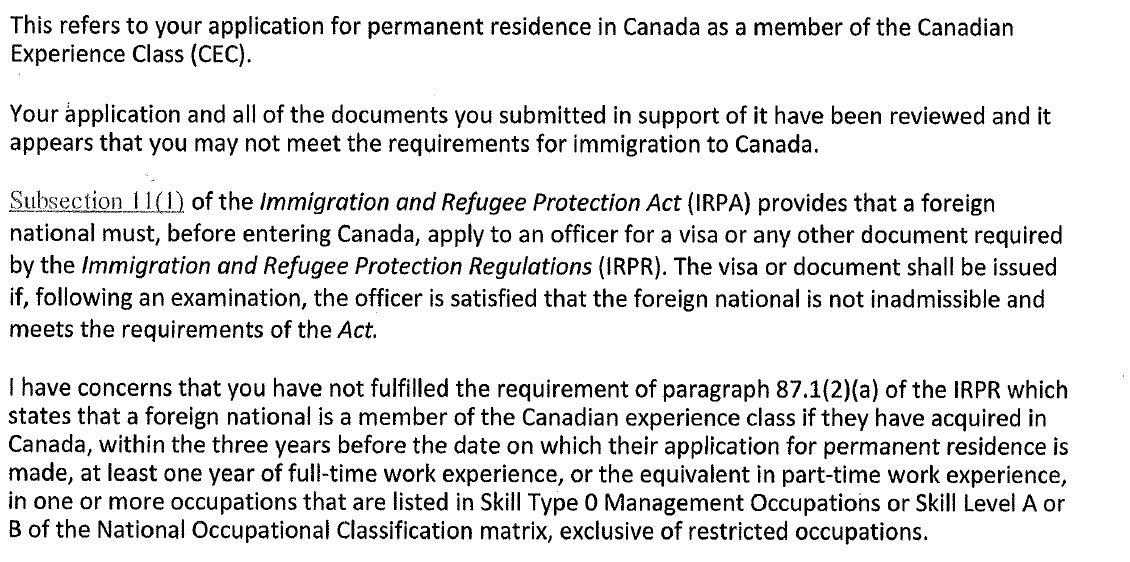 The next few lines will (ideally) set out the specific nature of the allegation. Note that IRCC is not under the obligation to disclose entire transcripts of telephone verification calls or active investigations. The amount of negative evidence disclosed and the source of that evidence should be documented at this stage. IRCC has the duty of procedural fairness with respect to procedural fairness letters and content. Rather than try and explain it, I want to highlight a good summary found in Federal Court jurisprudence. In introducing the law of procedural fairness, Justice de Montigny writes in Chawla v. Canada (Minister of Citizenship and Immigration) 2014 FC 434:
14 It is well established that procedural fairness requires that applicants for permanent residence be provided a meaningful opportunity to respond to perceived material inconsistencies or credibility concerns with respect to their files: Qin v. Canada (Minister of Citizenship and Immigration), 2013 FC 147 at para 38, Abdi v. Canada (Attorney General), 2012 FC 642 at para 21; Zaib v. Canada (Minister of Citizenship and Immigration), 2010 FC 769 at para 17; Baybazarov v. Canada (Minister of Citizenship and Immigration), 2010 FC 665 at para 17; Hussaini v. Canada (Minsiter of Citizenship and Immigration), 2013 FC 289 at para 5 [Hussaini]). This entails that an officer's reliance on extrinsic evidence without allowing an applicant the opportunity to know and reply to that evidence amounts to procedural unfairness: Amin v. Canada (Minister of Citizenship and Immigration) 2013 FC 206.

Indeed, the Respondent's own guidelines provide as follows concerning extrinsic evidence:

The applicant must be made aware of the "case to be met", i.e., the information known by the officer must be made available to the applicant prior to the decision being made. For example, if an officer relies on extrinsic evidence (i.e., evidence received from sources other than the applicant), they must give the applicant an opportunity to respond to such evidence

Overseas Processing Manual, Chapter OP-1: Procedures, s.8 "Procedural Fairness"
If misrepresentation is a possibility this likely will be drawn into the language of the procedural fairness letter.

The importance for IRCC of introducing this potential allegation, is that it can cover off potential credibility concerns. If no misrepresentation is alleged at this stage (in content), then it is likely an issue with sufficiency of evidence. However, my experience is that they will do both in most cases.
3. Performing a Background Review

One of the first things to do is order an Access to Information request for the full physical and electronic notes on file. My colleague out in Alberta, Immigration Lawyer Mark Holthe, has put together a good guide on this.
Generally, clients will retain us to go through their previous submission and as well the Electronics notes of the Officer to better understand the discrepancies. The Access to Information process can take 30 days or longer so at this stage you also want to determine when and how you can ask for an extension of time to file a response.
Generally, IRCC is pretty good about giving decent extensions (as this is an important part of procedural fairness). Do not be afraid to ask and certainly do not think that you responding on day 1 vs. day 30 will impact the success rate. While, it may speed up the processing to respond quickly, it could also very well speed up the refusal process.
At this stage, the material and notes you saved from your earlier work will be also very useful.
4. Determining the scope of allegations – insufficiency of evidence, credibility, or both
Start by determining what the alleged concerns are with respect to. In some cases, it may be that the application is insufficient due to documentary evidence. In this case, your goal is to supplement the material. In some cases, there will be credibility concerns over whether you indeed performed the tasks you have stated in an employer reference letter. In those cases, you will need to provide proof by way of additional positive support. In many cases, it is actually your mistake (administrative error, forgetfulness) that has triggered a procedural fairness letter. I like to start by laying out all of the Officer's concerns and coding them accordingly. Many times they will be lumped into a longer paragraph in a refusal letter so it is important to read over the middle sections of these letters a few times.
5. Corroborating positive evidence and explaining deficiencies
The final step is determining who will be providing support and in what means. In the case of a negative employer verification call, you may need to go to the source for clarification and to seek a rescinded letter of support. You may contact work colleagues or other individuals (customers, partners) with […]
Read More »