The importance of employer reference letters  in today's economic immigration system cannot be understated.
The current Express Entry process is largely applicant driven through self-declaration, up to and until the point a decision is made. With the Applicant essentially able to select the dates and self-select the National Occupation Code ("NOC") to match their work experience, it is understandable that immigration must closely scrutinize the supporting documentation.
Indeed, there are several possible outcomes where required reference letters can be insufficient. Applicants can lose points for claimed work experience if the duties do not match up to the position claimed. If the points lost bring them below the lowest number of points during the draw which they were chosen they may deemed to be ineligible under A11.2.
Applicants can also found to have an incomplete application if required reference letters are missing altogether.
Challenges in Securing Documentation
The challenge lies, for many applicants, in securing this documentation. Granted, the supporting documentation is not needed for ALL positions. As IRCC has made quite clear in correspondence to immigration representatives (although they can make this clearer in their online material), only work experience that impacts the Comprehensive Ranking Score ("CRS") is a required document. However, applicants are advised by IRCC to upload explanations in lieu. This often is true for accompanying spouses, but also possibly for Applicants if the work experience is in excess or outside of the amounts being claimed for points.
Challenges in Securing Documentation
Challenges obtaining reference letters also flow logically from employers that no longer exist, employers with whom the employer/employee relationship were not well documented, as well as previous employers with whom the relationship soured or is not currently on good terms.
Another issue I have realized is that by virtue of being called a "employer reference letter" many applicants provide letters that serve to be good character references but serve very little value in terms of their required information.
Indeed, as will be highlighted below, the requirements of a Canadian employer reference letter are very detailed and usually go beyond what is provided by Employers to individuals who are seeking to apply for a new position.
In fact, another challenge is that in many countries submitting employer reference letters that contain as much detail as requested by the electronic Application for Permanent Residency goes beyond what is legally permissible – in terms of domestic privacy laws. For example, I have learned that in Germany it is impermissible to include salary in employer reference letters. Applicants are forced to then supplement their applications with confidential contracts (etc) which create even more privacy and disclosure issues.
All of these may affect the quality, and ultimately the utility, of these reference letters.  These points have not yet been directly addressed by IRCC policy but in my mind should be moving forward.
A further major challenge which I will expand upon below, is that many large, reputable Canadian employers are unwilling to support their Employers with specific reference letters that set out the required
Reference Letter Requirements for Economic Immigration
To recap, the required documents for employer reference letters are highlighted in the screenshot below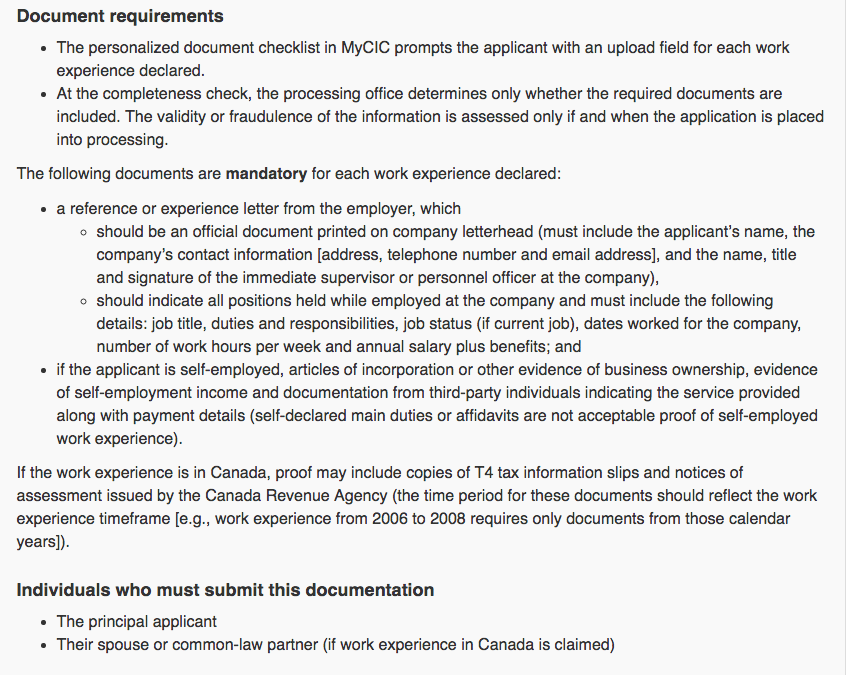 Source: http://www.cic.gc.ca/english/resources/tools/perm/express/intake-complete.asp 
Employers Unwilling to Submit Anything Other than Generic Reference Letters
In conversation with several clients/employers, particularly large banks and telecommunications companies, I have heard that HR is only generally able to submit generic reference letters that confirm only the hours of work, salary earned,  and the title position of the employee. As per the above requirements, this is not nearly enough.
Recently, in order to try and gauge Immigration, Refugee and Citizenship Canada ("IRCC")'s position on this letter, I submitted the following question to the representative's mailbox:
Two quick questions:
1.       What is IRCC's position on utilizing a generic employee reference letter with support provided by other employer-provided documentation (internal role profiles, etc.)? 
2.       In the event that the employers (many of them former) are unwilling to support the provision of new references, is there any guidance on how to assess employee submitted evidence in support of their own work experience?
The response I received, highlighted my understanding of the situation and how important it is for applicants to be aware and prepared to submit accompanying proof:
Under A11.2, an applicant must demonstrate that they met the minimum entry criteria (MEC) for Express Entry and possessed the qualifications for which they were awarded Comprehensive Ranking System (CRS) points, both at the time they were issued an Invitation to Apply (ITA) and at the time their electronic application for permanent residence is received.
 Please note that applicants must provide supporting documentation to substantiate the information provided in their Express Entry profile (on the basis of which they were invited to apply) and their electronic application for permanent residence (e-APR). 
As you are aware, a reference letter is an official document printed on company letterhead and must include your name, the company's contact information (address, telephone number and e-mail address), the name, title and signature of the applicant's immediate supervisor or personnel officer at the company.  The letter should indicate all positions held while employed at the company and must include the following details: job title, duties/responsibilities, job status (if current job), the dates you worked for the company, the number of work hours per week and your annual salary plus benefits.  The letter should indicate all positions held while employed at the company and must include the following details: job title, duties/responsibilities, job status (if current job), the dates you worked for the company, the number of work hours per week and  annual salary plus benefits.  As you may understand, a generic letter would not be acceptable.
 If an applicant is unable to obtain a reference letter, he/she may provide a letter explaining the reasons and provide any other documentation to satisfy an Officer of his claimed work experience. However, please note that the onus is on the applicant to demonstrate that he/she meet the criteria under A11.2.
Possible Solutions
Where Employer references are unavailable, I have utilized some of the following strategies:
Advertisements from the company for the position;
Internal role profiles;
Paystubs;
Internal Contracts; and
Letters of Explanation/Statutory Declarations from the Applicant and/or colleagues or past supervisors.
There are likely many other solutions. Yet the rigidity of the employer reference requirements and the need to satisfy the far-too stagnant and inflexible National Occupational Code ("NOC") system needs in my mind to be restructured.
I can see the challenges with using purely wage (in terms of artificial wage inflation, non bona fide employment,  and abuse of the system), yet the challenges applicants and employers have in addressing the NOC is a pressing issue for potential economic immigrants.
Challenge now is. How can we change this process for the better?
Read More »