Hi Readers:
I have been relatively quiet of late, grappling, as many are with the  deaths of George Floyd, Breonna Taylor, Ahmaud Arbery, Regis Korchinski-Paquet, Chantel Moore and thinking about how my own work and positionality as a lawyer requires me to do more and say more with respect to Anti-Black and Anti-Indigenous racism. I have been working on drafting a response for an organization but even those words seem like they fall short, as I have.
It is with these complex feelings that I wish to share an award I received today, but I hope to divert attention from the award itself more to the paper I wrote, before drawing on a few Thank You's.
Paper – Re-Centering the Resilience and Resistance of Migrant Women of Colour: Exploring the Potential of Intersectionality and Indigenous Approaches to Immigration Appeals
I have shared the paper below. It is shared with the permission of the Canadian Bar Association and I am grateful for their support.
WT – Founders Award Paper – FINAL

The reason I wanted to share this paper is that it represents for me a first major (academic/creative) deep dive into the issues of intersectionality, racism, and Indigenous approaches to Canadian immigration law. I have been thinking about these topics for some time, tweeting and blogging, but in this piece I tried to mold it into something more prescriptive. I also wanted to take a critical lens, something we often fail to do when we simply celebrate diversity and multiculturalism without seeing how it is working below the surface and in white spaces.
With organizations considering how they can respond to recent events, particularly in taking anti-Racist approaches, I do hope we can begin through looking at long-standing institutions/laws and how they may not be creating space for resilience, resistance, nor recognizing the experiences of migrants of colour.
I ask you to spend some time with my paper, particularly if you are a decision-maker or a Government official (particularly from the Immigration Appeal Division, for the purposes of this piece) with the ability to implement change. I do feel that this is an area where Canadians can demonstrate anti-racism is more than just a current rhetoric and to work towards past reparations by resourcing (read: paying/investing) for Indigenous advisors to help rethink our Immigration system. This is just a start, but I hope it sparks something or some ideas for needed reform.
I also wanted to specifically highlight that I was influenced by writer Gloria Anzaldúa's 'Borderlands/La Frontera, The New Mestiza' for the way she mixes literature and prose.
Thank You's
I want to start by thanking the CBA (the Award's Committee, Exec/Table Officers/Staff) for this award and the below generous write up. I do not do this work for the accolades, but to know others are watching is great.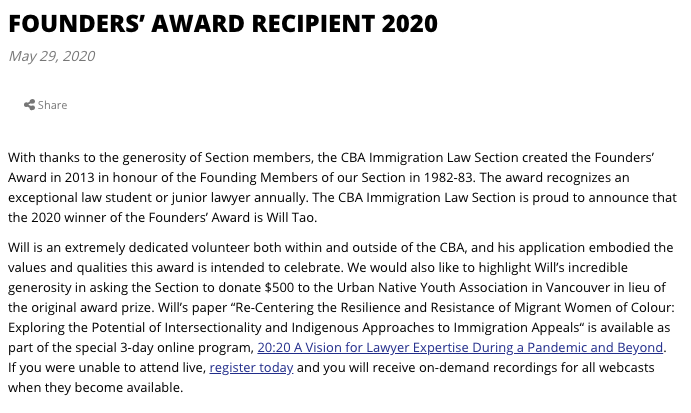 I am continuously cautious of the effects of when organization's difference you up and how that could impact your work and what you say. I am being very careful to not compromise for me the core value of living/practicing with authenticity and transparency at all times.
I would like to my mentors/colleagues at Edelmann and Co., including now-Justice Edelmann and my former mentor/colleagues at Larlee Rosenberg and Heenan Blaikie prior to that – as well as the University of Ottawa Faculty of Law for being such a beautiful place to learn the law and for supporting my work.
I would also like to thank my mentees who assisted on helping me review my paper and give me feedback. Specifically, Karen Jantzen, Tamara Yang, and Astitwa Thapa were instrumental for this particular piece. Chats with the exceptional Partner at my firm Erica Olmstead and the ideas of the brilliant researcher/thinker Leanne Dixon Perera helped shaped this piece as well.
I also wanted to thank those at the UBC's Allard School of Law where I serve as a Supervising Lawyer for the LSLAP Clinic for inspiring me to look beyond the sometimes too-safe practice I do as part of my regular work.
Finally my best friend Davinder,  my Assistant Edris, my spouse, Olivia who supporting me through thick and thin, and my mother and sister. I did not dedicate the paper to my late father (he hated public attention), but I want to recognize his influence in raising me the right way.
I am taking most of today off to write (although some of it is for my case work). I hope to publish the piece on anti-Black racism and experiences in my circles shortly as I think that is the conversation we need to have today.
I hope you do not mind this short interlude.