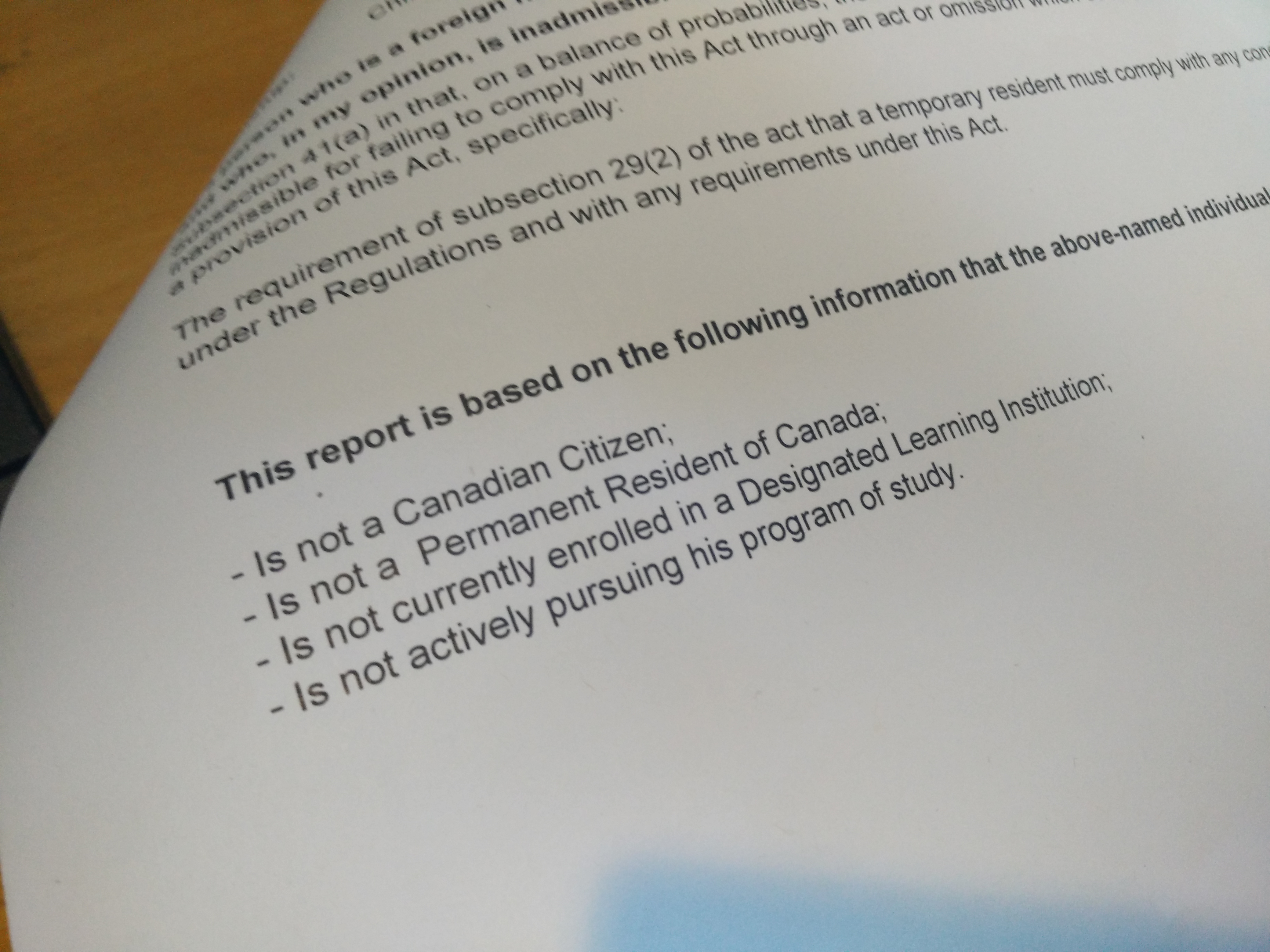 Back in one particular undergraduate semester, I will admit that I had a tiny bit of a skipping problem. It was a problem of the academically inconsequential kind. I knew that by virtue of taking certain courses, with only term paper requirements, that I could free up that one course time to pursue my other research, write papers, and organize projects. Arguably had I filled my course schedule with all of the toughest courses at the worst 8am times, I would not have made it to where I am today.
One of the courses in particular was an European History of Economics class that I managed to make approximately three classes for. The first class to the get the syllabus, the second class to hand in my term paper, and the third class to attend the final exam preparation session. I was able to self-read and self-teach my way to an A (not that proud of it looking back).
For an international student, that luxury as of June 2014 no longer exists.
Speaking from my recent experiences with CBSA (an ongoing matter so I will go into no specific detail on it), I know that officers are now armed with an incredibly thick binder of information on each student. They have access to school policies, attendance records, late records, and transcripts. This is in addition to the school's own requirement to report student progress.
All of this is in relation to the following legislative requirement that was introduced to the study permit changes in June 2014. 
Section 220.1 of the Immigration and Refugee Protection Regulations (IRPR) now reads (emphasis added):
Conditions — study permit holder

220.1 (1) The holder of a study permit in Canada is subject to the following conditions:
(a) they shall enroll at a designated learning institution and remain enrolled at a designated learning institution until they complete their studies; and

(b) they shall actively pursue their course or program of study.
Individuals found in violation of this provision can be hit with an exclusion order on the basis of subsection 41(a) of the Immigration and Refugee Act  (IRPA) for non-compliance based on the requirement of subsection 29(2) of the act which requires that a temporary resident comply with any condtiion imposed under IRPA or IRPR. This type of removal is also a Specific Removal Order pursuant to subsection 228(c)(v) of IRPR which does not require referral to the  matter of the Immigration Division for an inadmissibility hearing. The decision is essentially made by the Minister's Delegate at the conclusion of his review with the Applicant (and counsel should he/she obtain one).
Worse yet, is that by operation of s.229(1) and s.229(3)(b) a combination of two inadmissibilities can be lead to a deportation order. A deportation order is a permanent bar on returning to Canada, unless authorized by the Minister.
s.229(3)(b) states (emphasis added):
Exception

(3) The applicable removal order in the circumstances set out in paragraph (1)(f), (g), (h), (j), (l) or (n) is a deportation order if the person

(a) was previously subject to a removal order and they are inadmissible on the same grounds as in that order;

(b) has failed to comply with any condition or obligation imposed under the Act or the Immigration Act, chapter I-2 of the Revised Statutes of Canada, 1985, unless the failure is the basis for the removal order; or

(c) has been convicted in Canada of an offence under an Act of Parliament punishable by way of indictment or of two offences under any Act of Parliament not arising out of a single occurrence, unless the conviction or convictions are the grounds for the removal order.
1(f) covers inadmissibility on health grounds, 1(g) covers inadmissibility for financial reasons, 1(h) covers misrepresentation, and 1(g) failing to appear for examination.
Why this condition is problematic?
First of all, it must be accepted that this provision does serve a purpose. Individuals who come to Canada on study permits but do not study or are simply buying time to try and obtain other permits harm the integrity of the system and arguably take away opportunities for other Canadians.
However, the condition is, on its face, very subjective. It does not specify what level of attendance is required, how many absences or skipped dates can be submitted, or provide a legislated ground for the Applicant to be exempt from the requirements due to certain personal events. For different programs, such as field-based Masters or pHD work, where the study path is not so clear and research breaks are often part of the overall process, the 'actively pursuing' requirement adds a layer of uncertainly.
I think that at the very least the provision requires an oral hearing (much like in the case of most misrepresentation). This is a factual inquiry, specific to each school's policies, requirements, and the overall study program of the student.
For example, I could have easily been found to be not actively pursuing studies by virtue of skipping my Economics class, but by virtue of the result and my overall program I certainly was actively pursuing studies. The legislation states "course" or "program" which makes the application very broad.
Finally, I also find the combinations that can lead to deportation quite troubling. While misrepresentation and failure to appear, combined with a not-actively pursuing studies finding, makes some sense. In the case of financial or health inadmissibility, which itself may be-correlated with the inability to actively pursue studies, a deportation order seems particularly harsh.
My Overall Recommendation to International Students
Go to Class. With the current rules and regulations, it is probably not the best idea to try and plan class-time day excursions or trips with your Canadian boyfriend to Europe during scheduled course time.
I had a good after-hearing discussion with a particularly helpful CBSA Hearings Officer on this issue. From their perspective, it is about the international student constantly updating CIC on decisions such as withdrawing from one institution to attend another or taking certain leave of absences.
I would go a step further and argue this is a tripartite relationship. If I were an international student I would ask the school as much as possible to keep you informed as to the type of notes on your record. For example, should you have permission to take a leave, this leave needs to communicated appropriately not only to professors but to the administrators in charge of providing this information to CIC. Any information gap could lead to negative consequences.