I have been very busy.  Still there are no excuses I realize I owe  about a billion posts for my one month hiatus. This represents the beginning of my seeking for forgiveness from my faithful readers/followers.

Introduction
I wanted to put out a post today that will help self-represented litigants dealing with immigration. I have several of these types of clients who a post like this is directed at. Good/working class command of the English language, a basic understanding of the immigration system, and possibly without funds to hire a lawyer to larger engagement unless a problem occurs.
However, this is also a group that may be very prone of falling into traps or being the victim of administrative mistake. I really like this quote by Prothonotary Kevin R. Aalton in John v. Canada (MCI) 2016 FC 572. The underlying decision was a successful extension request for time to file an applicant's record.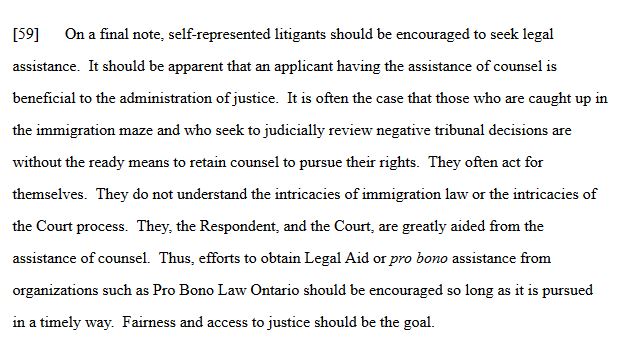 Like with any job, there are obviously some tricks to the trade that I can't share. These are best strategies for which we provide a value add as legal professionals and by which we carve our living. However, in my mind, a well-functioning immigration system is not one where 90% or even 60% of applicants should have to speak to a lawyer. This is a system-made for the layperson and I want to give some advice (non-legal/substantive) that can help you organize your immigration file.
Below are five "layperson" tips for papering (or digital papering) an immigration file.
Why is papering important?
In too many consultations, I run into individuals who don't keep accurate records of their immigration file. After a negative decision, they merely hold a one page-standard form letter from Immigration, Refugee and Citizenship Canada ("IRCC") that frankly doesn't provide even the starting point for what has happened. Many individuals do not keep copy of submitted forms, others lose correspondence, and I find few take proper screenshots of electronic applications.
In the event of refusal or a request for further information, these paper trails are critical in defending one's position. For example if a document is lost or claimed to be not received by IRCC, if you have no proof that you sent it you will have a difficult time seeking reconsideration or judicial review of a negative decision. For an example of this in IRCC policy see OB 265-A here.
More specifically, on the issue of police certificates and Express Entry, showing you have met the document requirements when a police certificate has been applied for but not received is a crucial step. Individuals who cannot provide this proof are subject to their application being refused for incompleteness – which is equivalent to a Monopoly "Go Back to Start. Do Not Pass Go." See below: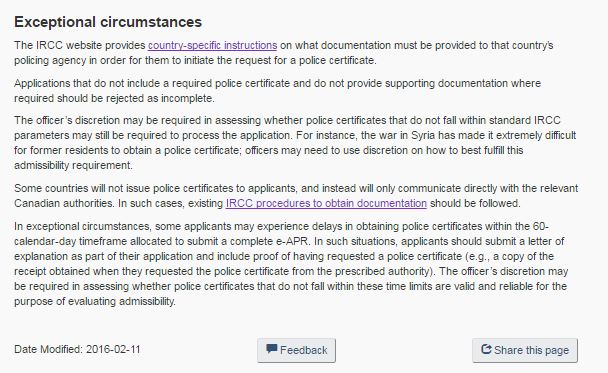 These are just two small examples of what I would say is  currently the biggest non-legal barrier to successful immigration.
The ultimate consequence of not papering is when you do seek legal advice, the lawyer/consultant will have to start at square one with your file. This involves obtaining an Access to Information request ("ATIP") which itself will take at least 30 days and often more to obtain. During this period you may lose out on important deadlines – to respond to information, file an appeal, or file a judicial review as your case may be.
Where a file has a long history, getting those documents may be further delayed by ATIP officers asking for an extension of time to deliver your documents.
During this gap, there is very little to do but wait and see if no accurate records are kept.
Papering Tips
TIP ONE –  Screenshot everything – use Print to PDF where ever possible
One of the challenges with many immigration applications and processes moving digitally now is that there is no longer a physical paper trail but a series of screened pages that may not reappear again.
A good practice is to print everything to PDF. Often times you may be tempted to a simple screenshot: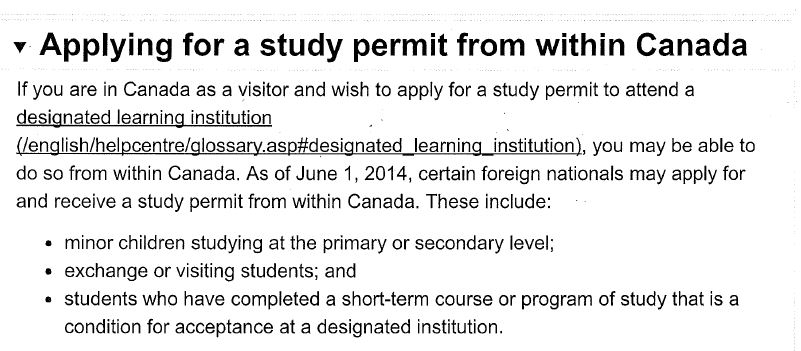 However, something like this short excerpt from a policy guide may be useful now, but perhaps by the time a decision is made on your application the website no longer exists or the policy has changed.
Printing to pdf ensures that you get this critical portion showing when you accessed the document:

This also is especially relevant when submitting online applications. For example, several online applications currently do not charge individuals correct fees and require an additional receipt upload or that have document checklists where you need submit 20 plus documents.
Printouts showing what you have uploaded are very important and can often time be trigger points for self-identifying mistakes and deficiencies.
TIP TWO – Document Your Third-Party Document Requests
Canadian immigration is becoming increasingly dependent on third parties, often times putting your future in Canada at the hands of a third party state police office or educational credential assessment companies. Mistakes can happen there and it is good practice to keep accurate records of all requests tied to your immigration record. For example, you may need to request a name change to an educational credential assessment or police certificate or even follow-up with a doctor to fix an upfront proof of medical certificate. All of these would not be possible without keeping accurate records of third party documents.
This is also particularly important when dealing with Visa Application Centres or Provincial Nomination Programs which often have a line, but not necessary the most perfect line, of communication with IRCC. You want to have paper trails of communication in the event of any discrepancies or gap where information provided by one party can supplement information needed by another.
TIP THREE – Number/Folder Your Documents
When creating your paper folders/online folders it is important to properly number and folder your documents so you do not accidentally get duplicates. This is particularly important in the Express Entry process where you will have screenshots that you will need to take at the profile creation stage and later the permanent residence stage, each of which consists of hundreds of pages of information.
Doing so also makes it more intuitive for an Officer trying to review your file. I have mentioned this before, but I personally believe to submit a complex file without a specific document checklist (not just the one provided with the application forms) is a disaster waiting to happen.
Use (1), (2), (3) and (a), (b), (c) where appropriate and save a lot of headache from forgetting to upload or include required documents.
TIP FOUR – Don't Mix Your Drafts With Your Final Copies
In the immigration process, there are inevitably times documents need to go through revisions. Perhaps you need to ask your boss to write you a reference letter but that reference letter needs to be edited. Perhaps, you are working with a family member abroad who is working on a portion of an explanation letter for a family sponsorship.
There are many ways to try and ensure drafts and final copies don't mix. Some lawyers do a v1, v2, v3, final approach. Others I have seen keep a draft document folder that holds all unused copies. Regardless, nothing is worse than submitting a document that accidentally contains comments or is missing important information because it is a previous version. I recommend individuals to always submit PDFs as final copies and always label final copies as such.
TIP FIVE – Courier/Track Everything Coming in and Out and Make Sure Right Process is Chosen
One of the musts I have come to realize is that documents need to be tracked upon exiting your hands and entering your hands. I strongly recommend self-reps to invest in a date stamp to properly make sure all official documents are dated. This is important especially if a document is snail-mailed by IRCC and is received by you several weeks after the date. In the event, your own deadline is coming up you may need to show proof that are still within the time frame to respond or initiate further action or request an extension as required.
Second, I would suggest that when mailing immigration documentation (unless tactically otherwise), this mail should be tracked. Immigration applications contain several pieces of private information and particularly for overseas offices or domestic offices where there are many branches, it is easy to misdirect a piece of correspondence.
Also, it is important to follow IRCC's instructions and read them carefully when choosing what medium to response. For example, often times a response can only be sent by one medium only as indicated in a letter (i.e. return email). Other times there is no requirement, so it may be in the interest of an applicant to send it via two mediums to ensure a document is received and tracked. Finally, there may be times where there are no channels and other channels (case-specific enquiry, case review, MPs office, etc.) need to be contacted in lieu.
Conclusion
Papering (or digital archiving) in Canadian immigration is increasing in importance. I have not even begin to touch on the other implications (for example Employer Compliance) which will be subject to future posts.
Please contact me at will.tao@larlee.com if you ever have issues with papering/records. I have a good track record with reconsideration requests and I hope to help you moving forward!
Read More »